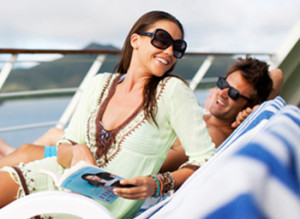 What Do You Stand To Lose When Taking Advantage of Cruise Deals?
When it comes time for you to plan your holiday, one of the most exciting adventures you should consider is cruise vacations.Now the first thing that may pop into your head is you just don't think you could possibly afford such an extravagant vacation. Put that thought aside for the moment though until after you read what we have to tell you about the type of deals that really do exist with many reputable cruise lines that can whisk you off to destinations that you never knew existed.
The most important thing for you to realise is that even though there are so many cruise deals available selecting the lowest price available to you will NOT mean that you will be sacrificing any of the wonderful benefits and amazing amenities that come with this type of travel.
All too often when holiday planners are looking at the best cruises they don't realise that there are lots of options available to them.
Here are some things to consider when contemplating a cruise.
There is no travel time that is wasted like that which happens with other types of travel. Every day that you are onboard every moment affords you a wonderful experience. This is particularly true when you opt for one of the many large passenger cruise ship holidays. Here you get to meet and socialise with people from all walks of life. For proof of this all you need to do is talk to anyone that has had the pleasure of enjoying a Carnival cruise or one of the Carnival Cruise Line packages, and their excitement is sure to get your adrenalin going. This is an addition to the ever-popular Princess Cruises and P&O Cruise Line.
There are so many choices of restaurants on board the larger passenger cruise ships that you will feel like you are dining at a different port each and every night while on your way to your chosen destination. This is not something you get to enjoy with other types of holidays until you actually arrive at your location.
You have so many choices of activities and entertainment that will keep you as busy as you want to be. Yet at the same time your cabin will be so spacious and comfortable, and of course offer you all the privacy you desire.
Most important of all is that when you choose any of the lowest prices cruise deals you are not expected to sacrifice any of these wonderful opportunities nor are you treated any differently than any other passenger onboard.
How can Cruise lines afford to offer such cheap travel packages that lack nothing?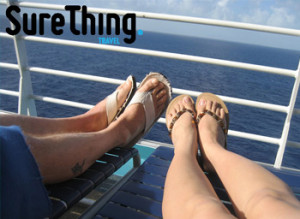 There are many reasons why large cruise lines like Carnival Cruise Line, Carnival, Cunard, P&O, Princess, just to name a few, can provide cruise deals that allow you to save a ton of money and still enjoy a great cruise.
Often they will offer the lowest prices as a new promotion. They may want to promote a new destination, or a new cruise they have added to their itinerary.
Some will offer discounts for specific destinations if the cruise has not booked up completely by a certain date.
There are some cruise lines that like to promote exclusive prices for those who want to go on a holiday and are able to book early.
And of course, the most common way to get a great to is the get the industry specials released to wholesalers and specialised cruise travel agents (such as Sure Thing Cruise) who pass the great cruise rates on to you. These are available to those who contact enquiries@surething.com.au
The best way to take advantage of the exciting cruise deals that are constantly coming available is to book your spot early through a booking agency that puts the needs of their customers first.
Be sure to check out the cheap dealsfor cruisesthat we can offer you here to some of the most exotic and fun-filled destinations in the world.
If you need additional assistance with any booking, or have a special request, simply contact us via phone 1300 49 59 69 (extended office hours) or email us at enquiries@surething.com.au