With the huge success of cruises and the travel industry in general, there is a port in or near every major city. This is great for spontaneous travelers who may not have much time to plan a trip or to drive a long distance to get to the dock of a major cruise line.
Sailing from Sydney
Some of the most beautiful wildlife, natural scenery and most unique wonders are located within Australia. Still, Aussies want to see the world too! Cruises from Sydney take excited travelers throughout the Pacific, and can range from just a few days up to several full weeks. Travelers from around the world plan months in advance to book a trip to New Zealand and Australia, navigating the breathtaking waters and enchanting landscapes. Sydney is usually one of the most popular ports of call for these visitors, and they simply cannot get enough of the area.
Carnival Cruise Line has become one of the most popular cruising options out of Sydney. We currently have specials on the Carnival Spirit and the Carnival Legend.
Because of the huge growth in the travel and tourism industries, it can be easy for Aussies to forget that ships also leave from their ports too! With only a few quick clicks or a phone call to a competent travel agent, you can be on your way to enjoying one of the last-minute cruises from Sydney to an equally intriguing destination.
Last Minute Cruise Ideas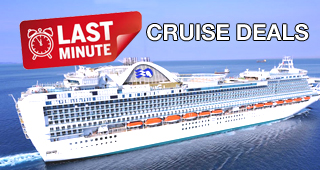 Many carrier lines have last minute discounts when they are trying to fill a previously booked trip. This is very convenient for anyone who has received a cash bonus or unexpected holiday from work and is eager to spend it relaxing in beauty and luxury. Even major names like Carnival Cruise Line offer final minute cruise options. In fact, two of their most popular ships, Carnival Spirit and Carnival Legend, have multiple bookings that leave from the area. Both are the utmost in style and luxury, and offer the trusted customer service staff that has boosted the Carnival Cruise Line name to the top of the list among travel industry polls.
The Rhapsody is part of the 'Vision' fleet and offers state-of-the art luxuries and even features Starbucks shops onboard for those who cannot leave their coffee on land! The Radiance is equally amazing in style and architecture, and promises days or weeks full of entertainment and comfort. So many food options are available, that it is nearly impossible to name them all; world class dining in fine, formal restaurants complete with soft music and even dancing whisk travelers away to another time and place. Those who prefer to keep their vacation more casual are never facing a food shortage! Breakfast, lunch and dinner buffets offer every type of food imaginable, while kiosks take care of mid-day cravings.
While there are certainly plenty of deals available for vacationers who decide rather abruptly to take a holiday, it is of course best to plan the trip with a qualified travel agency. Whether travelling by land or by sea, they will be able to book the perfect trip at the best possible price! Just contact us for more information – we'd be happy to help.