Explore the world with your family. Royal Caribbean International cruises call on 281 ports around the world. The 22 ships in the fleet are equipped to dazzle, pamper and entertain you day and night.
The Perfect Family Cruise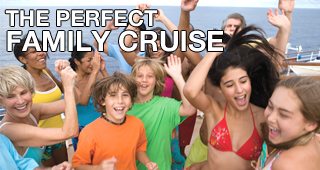 Planning your family cruise is exciting. An overwhelming variety of destinations will tantalize. Find a cruise that sails to all corners of the world; India, Bermuda, South America, or the Arctic Circle. Royal Caribbean voyages entice the mind, body and soul with amazing activities. If relaxation grows tiring for you, there is a bounty of fun activities designed for every family member of any age.
Royal Caribbean cruises are the ultimate family cruise deal, with plenty of entertainment for the kids – giving the adults some time to themselves. Filled with age-appropriate curriculums, the Adventure Ocean® program pleases children and parents alike. Different programs catering to age groups engage the kids; like the Aquanauts (3-5 years of age), or the Explorers (6-8 years of age).
Royal Caribbean organise special activities and create cool places for tweens and teens to hang out, as well. And there are plenty of things parents and kids can enjoy together. Play a round of miniature golf, race down the zip line, or scale the rock-wall together.
You can make every night family night onboard a Royal Caribbean voyage. One of the best souvenirs of all is the quality family time spent together. With all the organized activities, amenities and dining choices that are available for yourfamily, you won't run out of things to enjoy together.
If the parents need some time to relax on their own, there are a number of activities created to stimulate the mind and the soul onboard. Take yoga classes, or a foreign language class. Spend an afternoon at an art workshop, dance class, and many more things you've always wanted to do.
Take advantage of the Sitters at Sea program, and have a professional sitter spend a structured evening with your children, while you enjoy one of the many night-life events. Go to one of the nightclubs, grab drinks with new friends in a lounge, listening to a live band, or take in a Broadway-style show.
If you love fine dining, then a cruise is a veritable foodie paradise. Among any of the top-class cruise liners you will find appetising and diverse cuisine options. You'll discover fine-dining that competes with the world-class cities you're sailing towards.
New Cruise Deal Destinations
The cruise liners are stunning.Majestic ships like Radiance of the Seas and Liberty of the Seas are first-class cruise liners, brimming with impressive features. Sweeping vistas, glass elevators, and lots of observation decks will make a cruise around Australia, or a voyage to Fiji an unforgettable experience. The Radiance of the Sea homeports out of Sydney, with itineraries to Fiji, New Zealand, New Caledonia and other gorgeous ports.
Together we'll find the right cruise deal that fits comfortably in your budget. Whether your family is big, small, with young ones, or finicky teens; there will undoubtedly be something to entice every one. Carnival Spirit and Carnival Legend have also recently become excellent options for family cruises. Ask if you want to know more!