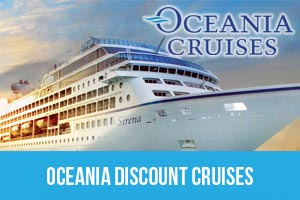 Our Oceania Discount Cruises are One of the best ways to holiday, relax, unwind and see another part of the world.
Whether you are interested in seeing Fiji, Vanuatu, New Caledonia , New Zealand, Cook Islands, Samoa, Tahiti, or even the Australian coast, cruising is one of the most memorable ways to have the adventure. 94% of our cruise passengers say they WILL CRUISE AGAIN
No need to worry about transportation, accomodation, packing and unpacking, meals… because it's all included as part of your cruise, saving you time and hassle.
'Sure Thing Cruises' offers oceania discount cruises on P&O ships, Princess ships, and all of the respected cruise liners from around the world which visit Oceania. Booking with Sure Thing Cruises ensures you the Highest Quality, and peace of mind that you are dealing with staff who are both extremely capable and have had extensive personal experience cruising on a wide range of ships, and therefore can give you the most detailed and honest advice for your own holiday selection.
We also look after: flights to get you to the ship's oceania departure port if you live in a different city, travel insurance, accommodation before and after the cruise, tours/car hire in the port cities, categorised room selection.
All employees at Sure Thing Cruises are Fully Accredited and Qualified.
Many oceania discount cruises are currently available
For more information on oceania discount cruises (bookings, availability, info)
Click on the following link »» OCEANIA: cheap cruises
If you need additional assistance with any booking, or have a special request, simply contact us via phone 1300 49 59 69 (extended office hours) or email us at enquiries@surething.com.au