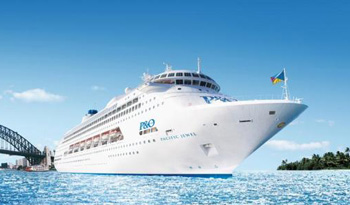 Pacific Jewel – operated by P&O Cruise Line and operating from Sydney, Australia.Pacific Jewel originally sailed with German-based AIDA Cruises and the Ocean Village brand, before joining P&O Australia in 2009.
Cruising is one way of escaping from your busy and stressful world to a relaxing and fun cruise holiday getaway. Experience various activities and fun entertainment on board; become fit and fabulous by working out with their Fitness Centre, join their Fitness class, Boot Camp at Sea or enjoy a dance lesson and learn new skills with their Pacific Cirque Classes. Unveil your inner creative side in the arts and craftsclass, try karaoke in front of your fellow cruisers, or just sit back and spend the days doing nothing at all.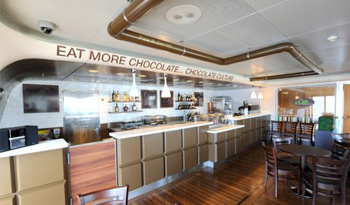 Interested in wine and coffee? Why not attend a wine lecture or a coffee appreciation seminar. Be wet and wild – restore your mind and body with the Aqua Health Spa Fitness or simply relax on deck soaking up the sun, then as the sun goes down prepare yourself for the live music, theme nights, movies and stage spectaculars. Start the night with a pre-dinner drink and chat with friends over cocktails then sit back and relax for a musical production, laugh until you drop at the comedy show, and rock the night withlive bands, singers, specialty acts and musicians.
The Casino offers the most popular table games including Blackjack, Roulette, Poker Pro and Three Card Poker, as well as cruise poker machines and daily Snowball Jackpot Bingo.
Hungry?Experience P&O Cruise's first ever celebrity chef restaurant at sea when you dine at Slat Grill by Luke Mangan, from signature dishes such as crab omelette to his famous liquorice parfait with lime syrup. TheWaterfront Restaurant is the main dining on board and offers full servicefor either an intimate dinner for two or dinner with friends or family. P&O Cruise's "Your Choice Dining" allows you to choose who you dine with and when, arrive when you choose at any of the dining venues or pre-book a time that suits you in the main dining rooms.
Shop at the different shops on board where you can get your chocolates and souvenirs, duty free alcohol, fine jewellery, bags, swimwear and a whole lot more all can be found at P&O Cruise's Pacific Jewel shops.
Kids also have their special place on the Cruise Ship. P&O Cruises thought of ways to entertain your children and teens. While you relax, rest assured that your kids are in safe hands with so much fun and educational entertainment offered to them by the experienced cruise staff; your kids will surely have the best holiday of their life.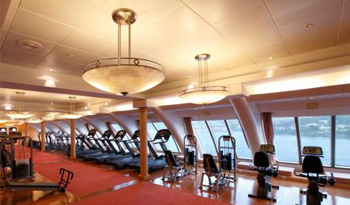 Seeing new and interesting places has always been one of the most interesting things to do during a holiday – Do it all during your cruise adventure as you explore parts of the world on an amazing Ship – The P&O Pacific Jewel. Find out why this cruise ship gets so many great reviews above other similar cruise ships from other parts of the world.
Once you decide to proceed with your Cruise Trip, the best step you can take is to contact Sure Thing Cruise Travel – 'Sure Thing Cruises' offers cheap cruises on all P&O Cruise Ships including the Pacific Jewel. Booking with Sure Thing Cruises ensures you the Highest Quality, and peace of mind that you are dealing with staff who are both extremely capable and have had extensive personal experience cruising on a wide range of ships, and therefore can give you the most detailed and honest advice for your own holiday selection. If you need additional assistance with any booking, or have a special request, simply contact us via phone 1300 49 59 69 (Now Open 24 Hours) or email us at enquiries@surething.com.au.