There's no setting quite like a singles cruise to meet new friends, discover love, or to explore the globe with fellow single persons. You will not be the third wheel on this vacation.
The Perks of a Singles Cruise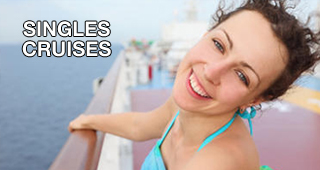 Each major cruise line offers a host of itineraries for singles cruises. They set the table for those who want to make new friends, or possibly find a special connection with someone. Take advantage of organized activities, speed dating events, socials, and dance lessons that are designed to encourage interaction, provide a lot of fun for all, and that avoid any awkwardness that might normally exist. The major plus with a singles cruise is that the entire passenger list enjoys the same single status as you. Everyone's there to socialise, to mingle, and to have one of the best vacations of their lives.
Singles events from cruise line to cruise line may differ slightly. The amenities may differ in tone and quality, but you are sure to find the right fit for you. The balance between male and female passengers is managed so that there is approximately a 50/50 ratio. The age group ranges between 18 and 30, in most cases. Some lines feature special cruises for the under-30 crowd. Some singles may not want to party 24/7, while others may be looking forward to just that. Everyone is different, and that's why there are so many choices.
Find the perfect cruise ship from a dizzying list of options. Go with a massive luxury liner, like P&O, Princess, and Especially Carnival. These majestic ships host over 2,000 guests, and is packed with awesome dining choices, tons of entertainment, and enough bars, lounges, and nightclubs to make new friends and share a journey of a lifetime.
Whether you want a short trip or a long voyage, choose from 3-night singles getaways;ore a 7-night singles cruise; or take a 14-night singles cruisesailing to exotic reaches.
Different Cruise Lines to Choose From
You can opt between the major lines, like Princess, Carnival Cruise Line, or Holland America; or you can choose the specialty lines that offer top-in-class service and accommodations without the dense crowds.
The Captain Cook CruiseLine features smaller vessels, creating a beautifully intimate environment; perfect for meeting new people. The family-owned Australian cruise line hosts a fleet of 16 luxury ships, and has destinations throughout the South Pacific. The major carriers like, Princess, Carnival, and Norwegian offer their own luxuries and charms, and usually appeal to those who want the crowds and the energy.
What's more romantic than sailing through the tropics? White-sand beaches and crystal-clear waters are the picturesque way to meet that someone special. Singles cruises are unique from normal cruises, in that you may be traveling alone, but you won't be for long. Everyone else is single, and on board for the same reason as you— to socialise. Your Caribbean cruise departs soon, so get on board and be prepared to have a fabulous time meeting new people.
Ready to find out more? We're just a phone call away!