The beauty of sea trips can't actually be described without losing something; cruise lines try to recreate this feeling with each new departure on the ocean, by taking you to new and unexpected settings. Things are no different around Australia, where the diversity of islands, along with the exotic feeling of various beaches and harbors, creates the impression of a place where nature can be a part of contemporary leisure opportunities. As a result, for young people under 25s, cruises are an excellent way to enjoy themselves in a completely new environment, making new friends and starting to build new relationships.
Redefining Cruises for the Young
Connoisseurs know that there's a huge difference between a quality cruise and a regular one as far as attractions go; young people either single or not make no exception to this rule. This is why, if you're looking for something different and appealing at the same time, you should spend some time checking out the P&O cruise offers. Most of them embody a fantastic set of tempting activities, which you will be free to enjoy at your leisure. There is no doubt that young people would have an amazing time on any one of P&O's cruises or Carnival cruise, however it is important to keep in mind that cruise lines need to know your age when booking in advance.
Drinking Aboard Cruises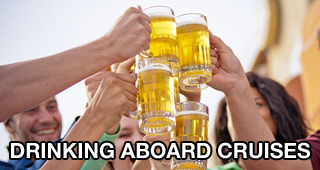 The age to drink alcohol legally is 18 years of age; which includes everything from owning, to drinking, and even purchasing alcoholic beverages. Due to this fact, cruise lines require you to respect these limits while being aboard. The range of beverages is so extensive and well-conceived that the age limit is not to be sensed anymore as a social boundary, even if you must be at least 18 to drink alcohol. This is why you shouldn't consider the age to drink as a factor to influence your choices when choosing a cruising trip.
Prospects in Continuous Change
Young people are constantly looking for new ways to entertain; as a result, companies try to adapt and offer a full range of solutions while being aboard. From regular urban activities, to sports, spas, and dances on the lower decks, the options are as many as you may imagine. Not only are all of these leisure activities available on the cruise ship, keep in mind that the ship is moving from one place to another, allowing you to visit new situations every day and giving you the opportunity to enjoy your trip to the fullest. When searching for a cruise line for your next holiday, make sure that you consider the onboard activities as well as the various places that you will be able to visit at the different destinations along the way. If you'd like more information on planning your next cruise for Under 25s, don't hesitate to contact us.