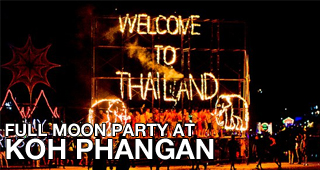 The main full moon party is held in Thailand on Koh Phangan Island (otherwise spelt Koh PhaNgan) and is off the more populated island of KohSamui.
The parties began many years ago based on the amazing full moon seen in that part of the world. Since then it has become one of the biggest parties on the planet.
It's so popular with Australians that we now even have our own miniature version of it on Magnetic Island (we have those packages available too), however if you're after the HUGE full moon parties that the world is talking about, then head to Thailand to check it out.
Full moon parties are known for the loud music, drinking, dancing, and seemingly 'out of control' parties. Having your full moon party package as an organised trip makes sure you are in the right place and at the right time – ensuring you get the genuine Full Moon Party experience.
Use the form below to check out the options and get the party the party started…