Full Moon Party Koh Phangan everyone loves a great party, especially one that combines a beautiful white sand beach, warm tropical weather and entertaining local people that know how to have a good time. One particular area of Thailand has been able to perfect the combination of ancient tradition, local customs and modern tourism. Every month the relatively tiny island hosts a full moon party in accordance with their native practices at Haad Rin beach.
Koh Phangan Island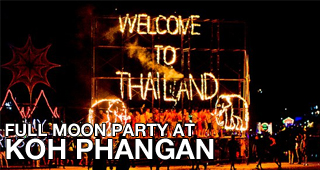 All of Thailand lends a bit of mystery and ancient enchantment to a first time visitor. There are so many wondrous landmarks and local areas that are steeped with rich tradition and languages that it would be easy to overlook the many recent additions and enhancements that have been made on even the least populated islands and communities.
Koh Phangan is a small island that lies on the Southeast portion of Thailand, within the Gulf of Thailand. The pristine blue-green waters and the contrasting beach with its bright sand make this island paradise a very popular attraction for local residents looking for a holiday. Additionally, the many activities that are available, such as the monthly full moon celebrations and corresponding parties, have made the island a popular destination for partygoers and backpackers looking for a good time.
Of course, the natural beauty alone is reason enough to visit the coastal region and explore Thailand. Even if a person never partakes in the excitement of the moon rituals, there are plenty of other treasures to uncover from the comfort of a beach resort of under the wide open skies with only a backpack and some crude camping equipment. The miscellaneous reasons to visit Thailand are largely a priority based on personality and personal preferences. Visitors of all ages and other demographics have enjoyed the multi-faceted activities on just about every budget.
Next Full Moon Party
Whether travelers decide to hike through the island areas or simply choose an all-inclusive resort, a local travel agent can assist with planning the perfect holiday. The good news is that this is probably one of the easiest trips to plan. Unlike the unpredictable Northern Lights or even Pacific whale watching excursions, the cycle of the moon is well-documented and can be pinpointed each month. Perhaps this is why the parties grow in popularity and entertainment with each passing year.
The celebrations are also well advertised by both Koh Phangan natives as well as the travel and tourism industries. Trips do not necessarily need to be planned months in advance, although the proactive approach does allow for more possibilities such as sightseeing tours and other activities that require advance purchase tickets or reservations. An experienced travel agent can assist every customer with finding the best excursions and attractions that will suit their personality and result in the perfect trip.
If you are ready to visit Thailand and experience firsthand one of the many full moon parties or simply want to explore the beautiful landscape, speak with a knowledgeable travel representative today to get started today! Just call us to speak with one of our friendly representatives.