The Full Moon Party began in the 1980's with an improvised bar, some music and a handful of travellers. Word of mouth has built up until now this monthly event attracts between 20,000 and 30,000 party goers.
The Actual Full Moon Party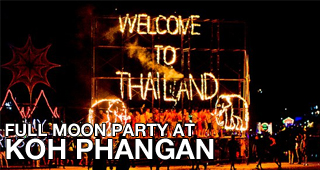 The party takes place on the crescent moon shaped beautiful beach of Haad Rin, on the tip of the Ko Pha Ngan Island in the Gulf of Thailand. The Full Moon Party date schedule is readily available online. It begins at dusk when the sandy beach is lit by thousands of lamps, and visitors get ready for a full night of dancing, music, fireworks and entertainment. There are a huge variety of music styles as different D.J's compete to get the crowd into a frenzy with dance, techno, reggae or drum and bass. There are chill-out areas where you can get a drink or snack for a few Thai bahtfrom one of the many beach vendors, or you can cool your feet in the waters of the Gulf of Thailand before heading back to the dance floor.
Safety
Basic safety precautions need to be taken by party goers. It is recommended that you wear inexpensive footwear which will protect your feet from any bottles or glass dropped on the beach. Leave passports and excess money in your hotel safe and have money and keys on your person, as bags can be forgotten or lost; be sure to keep your camera or phone safe as in a crowd of that size there may be pickpockets. As an added precaution keep a note of your hotel information, in case of an emergency, and don't be tempted to take food or drinks from a stranger. Although drugs may be available at the party, it is important to steer clear as Thailand has very strict laws.
Where to Stay
The area has built up quite a wide selection of hotels and bungalows to stay in, which offer package deals,or you can stay for a set rate of Thai baht per night. There is a wide spectrum of luxury hotels down to more basic accommodation, but you must be aware that your package may be subject to a full moon party minimum stay which may increase the Thai baht per person. Although you can arrange this accommodation locally, it may be advisable to organise a complete package from home.This may be simpler than staying in various hotels with different baht per night costs. There are a variety of packages available which centre on the Full Moon Party. It is worth considering that if you don't intend to party all night, then you may be better picking a hotel further from the beach, as the noise may prevent you from getting any sleep.
If you would like any further information about the Full Moon Party, or have any queries or questions, please contact us and we would be more than happy to help.