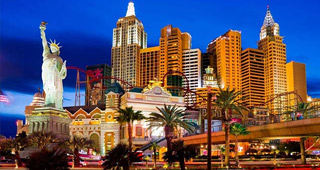 What happens in Vegas, stays in Vegas. This phrase has become the unofficial mantra of Las Vegas, and appears on billboards, in movies and now even in popular music. The popular metropolis situated as the county seat in Clark County, Nevada has been known for drawing crowds of visitors for at least six decades.
Entertainers, including famous movie stars and musicians, have been known to frequent the Strip, taking in a show or crashing in a hotel room after a night of heavy partying. The Brat Pack, starring Frank Sinatra, was one of the first celebrity groups to really put the sleepy little town on the entertainment radar. The rest, as they say, is history.
Staying in Las Vegas Hotels
With around 150,000 hotel/motel rooms to choose from, there is definitely no shortage of accommodation within the city limits. Visitors have an almost unending list of choices to fit any price range and style preference. Unlike some other popular destinations, there is no peak time to visit Vegas, and the prices are usually very reasonable for lodging and entertainment.
Guests who are merely passing through may want a moderately priced, no-frills room for an adjustable, per night rate. This type of accommodation usually suits short stays in the early to mid-week, as rates tend to rise closer to the weekend when rooms are in demand. Business travellers and sightseers who are simply passing through the town usually benefit from the great deals for a one or two-night stay.
Families, newlyweds and groups of singles usually prefer to have a longer stay. Choosing a hotel & casino that can accommodate the entire party and give easy access to gambling and entertainment is usually the best way to organise and plan a vacation for a large group.
Enjoying Las Vegas
For those looking to venture outside the typical Las Vegas hotel & casino scene, the city offers plenty of other attractions beyond the notorious strip. As the flashy nightlife and entertainment industry are such a strong influence, residents and tourists alike often forget that Clark County has so much more to experience.
Several lakes have exquisite water sports and picnic areas for the adventurous travellers looking for some great physical activity or quiet sailing under the open sky. There are also plenty of acres of national parks in which to explore nature and wildlife, including walking trails, rock climbing and even historical excavation sites. The best part about the variety of activities available is the discounted prices that can be found through a reputable travel agency.
One of our Sure Thing travel consultants would be delighted to assist you with planning a holiday in Las Vegas, including flights, accommodation, transfers and activities. We will gladly help you tailor a package to suit your specific needs.
To take the first step, fill in the form below or email us at enquiries@surething.com.au
We're only one click away!