A well-established tourist destination, Fiji is famous for its white-sand beaches and lush, tropical, natural environment. As a hugely popular Schoolies destination, it offers even more!
The Coral Coast, located on the main Fijian Island of Viti Levu, is an 80km stretch of beautiful beaches and bays along the Ocean Road between Nadi and Suva, and houses most of the resorts in Fiji. It's also where the charming Mango Bay Resort, the Official Schoolies Accommodation in Fiji, is to be found.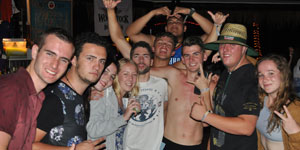 Situated in 12 acres of glorious, natural, tropical surrounds, Mango Bay Resort offers quality, unpretentious, beachfront accommodation – at a range of prices to suit every budget – and a huge range of activities. Booking with Sure Thing Schoolies Travel means you're free during the day to take advantage of all the island has to offer – explore the beaches, take day tours, enjoy the water activities and experience the culture – and when the sun goes down it's time to party!
Free Mango Bay Resort onsite activities include Tadra (dream) nightclub, Sunset bonfires with Kava Ceremony, Snorkelling equipment, Kayaking, Fijian Cooking Classes, Coconut Jewellery & Basket Making Lesson, Crab Races, Coconut Bowling, Intro to Scuba Diving lesson in the pool and more. Premium activities include visits to the Day Spa, Horse Riding, Ziplining, neighbouring Fijian Village and School Tours, White Water Rafting, a Sunset Cruise and others. You'll need to speak about these with your Sure Thing Schoolies Travel Consultant to get all the details and prices.
Combine all this with the resort's lively, nightly social scene and the brilliant parties and events organised by Sure Thing Schoolies Travel and you'll definitely have a Schoolies Week 2018 to remember! Sounds good? Fiji Schoolies always books out fast, so contact Sure Thing right now to make sure you don't miss out!
Sure Thing Schoolies Travel is a leader in Overseas Schoolies travel, and offers its expertise specifically and exclusively to Australian Schoolies. Sure Thing is proud to be accredited by the AFTA Travel Accreditation Scheme (ATAS), which is your guarantee of receiving reliable and professional travel advice from its highly qualified staff. You can book your Schoolies Week knowing you're in the safe hands of a trusted and reputable travel agent who will make the process an easy one from start to finish. Booking Official Schoolies Accommodation through Sure Thing Travel will also ensure that you'll have no problems at check-in, there'll be Schoolies-friendly resort staff and fully Accredited and Qualified Sure Thing staff on site and you'll get the genuine Schoolies experience.
If you're ready to start planning, settle for nothing but the best and make your Fiji Schoolies Week 2018 a Sure Thing! Sure Thing Schoolies Travel has a range of packages available and can help you to choose the best one to suit your needs and budget. Sure Thing can also take care of all the details, from arranging flights and transfers to booking activities and tours.
Fiji Schoolies 2018 Details and Packages are now available and places will fill fast, so don't wait! Complete the form below or email us at schoolies@surething.com.au