Sitting right on the beautiful east coast of Queensland, the Gold Coast is one of the most popular Schoolies destinations, with thousands of Schoolies booking accommodation there every year.
Sure Thing Schoolies offers you the widest range of options and the best Schoolies packages available when it comes to Schoolies Week celebrations on the Gold Coast, with amazing hotels and resorts at the best prices available. Sure Thing Schoolies Travel only books Schoolies Hotels and Schoolies Resorts, as our aim is for you to have the BEST Schoolies trip imaginable.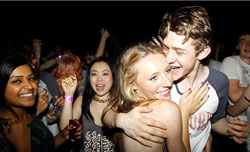 Booking into Official Schoolies Accommodation is a brilliant choice for all Schoolies who want to enjoy, relax, have fun and be part of all the Schoolies parties and activities. You won't have any trouble checking in as a Schoolie (even if you're under 18) as Schoolies accommodation is there for all Schoolies who have booked correctly.
So why not let Sure Thing Schoolies take all the stress out of planning your Schoolies Week celebration on the Gold Coast? We can take care of all the arrangements, including flights and transfers, and find the most suitable accommodation option for you at the best price guaranteed click here to book!
To take the first step, fill in the form below or email us at schoolies@surething.com.au
We're only one click away!
All employees at Sure Thing Schoolies are fully Accredited and Qualified.
Schoolies Details and Packages are now available.