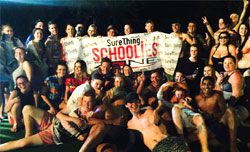 Magnetic Island is the sunniest city on the Queensland coast, averaging over 320 days of sunshine per year, which makes it the perfect destination for a week of relaxation, fun and sun at Schoolies Week 2018. Magnetic Island is located a short ferry ride (8km) to the north-east of Townsville, in North Queensland, and is a delightful mix of untouched National Park, pristine beaches, a small population, and a variety of holiday resorts.
Magnetic Island's best beach can be found in Horseshoe Bay, which is where the recommended Official Schoolies Accommodation, Sails on Horseshoe Resort, is also found. From the resort it's only a few steps across the road to the beach, and only 2 minutes' walk to the nearest shops. Everything you could need is within walking distance, meaning you can spend less time travelling and more time enjoying the Schoolies celebrations, having a dip in the pool, or simply putting your feet up and relaxing!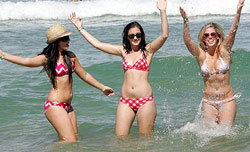 Amaroo On Mandalay Resort, in Magnetic Island's Nelly Bay, is alternative Official Schoolies Accommodation, and is the ideal mix of secluded island paradise and modern comfort. The resort is spacious and roomy, and features its own Magna Pool —a unique blend of ocean minerals that can help to reduce stress and anxiety. Just what you need after a tough year of study and exams! Cafes, Bars and shops are within easy walking distance, and the beach is only 1.5km away.
The best thing about booking Magnetic Island Schoolies 2018 with Sure Thing Travel is the freedom you'll have to explore this beautiful island. Being so close to the beach, there are plenty of water activities on offer, including Jet Skiing, Wake Boarding, Tube Rides and Water Skiing. Off the water there's Horse Riding, Comedy Shows, a visit to the Koala Sanctuary and more. Just talk to your Sure Thing Schoolies Travel Consultant to find out the costs and details. There will be plenty of Schoolies games and activities happening onsite as well, and make sure not to miss the Sure Thing Schoolies Party, which is only available to Schoolies who've booked through Sure Thing Travel. Staying at Official Schoolies Accommodation is a huge advantage, especially for those who are under 18, as it gives you a venue where you can relax, enjoy and celebrate your Schoolies Week.
Magnetic Island is hugely popular as a Schoolies destination, so make sure you don't miss out! Contact Sure Thing Travel right now to get your name on the Magnetic Island Schoolies 2018 list!
Sure Thing Schoolies Travel is the Schoolies Travel expert, and offers its expertise specifically and exclusively to Australian Schoolies. Sure Thing is proud to be accredited by the AFTA Travel Accreditation Scheme (ATAS), which is your guarantee of receiving reliable and professional travel advice from its highly qualified staff. You can book your Schoolies Week knowing you're in the safe hands of a trusted and reputable travel agent who will make the process an easy one from start to finish. Booking Official Schoolies Accommodation through Sure Thing Travel will also ensure that you'll have no problems at check-in, there'll be Schoolies-friendly resort staff and fully Accredited and Qualified Sure Thing staff on site, and you'll get the genuine Schoolies experience.
If you're ready to start planning, settle for nothing but the best and make your Magnetic Island Schoolies Week 2018 a Sure Thing! Sure Thing Schoolies Travel has a range of packages available and can help you to choose the best one to suit your needs and budget. Sure Thing can also take care of all the details, from arranging flights and transfers to booking activities and tours.
Magnetic Island Schoolies 2018 Details and Packages are now available and places will fill fast, so don't wait! Complete the form below or email us at schoolies@surething.com.au