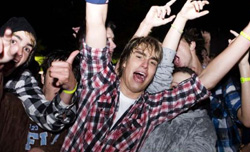 Schoolies Week, the week following final Year 12 exams, first began on the Gold Coast, Queensland, in the 1970s. It became an organized event in 1980 and school leavers from all over Australia were attracted to the Schoolies Celebrations. Schoolies week has become a tradition, especially for Australian high school graduates, when they celebrate their graduation with a week-long party at one of the many popular tourist destinations around the country.
Airlie Beach has become one of the most popular Queensland Schoolies, as it offers relaxing, beautiful white sands and sparkling seas, along with Schoolies activities every night. Airlie Beach has the huge advantage of being a perfect starting point for anyone wanting to explore the Great Barrier Reef. There are all sorts of Great Barrier Reef tours running daily, so you can swim, snorkel or dive this awesome living creation as part of your Schoolies daytime activities.
Magnetic Island Schoolies is also a very popular Schoolies destination in Queensland. It's a great place for Schoolies to celebrate the end of the high school years and to enjoy the Schoolies parties and activities. The best stretch of beach on the island is Horseshoe Bay, which has an exciting beachfront vibe with cafes and shops.
Sure Thing Schoolies offers the best available Resorts and Hotels for Queensland Schoolies. There's no need to worry about accommodation, deadlines, fitting everyone in, Schoolies registration or safety. Sure Thing Schoolies Travel does it all for you. We'll take care of all your Schoolies needs, and find the most suitable accommodation option for you and your group at the best price guaranteed!
Just contact us for more information, and we'll gladly get you started. You can fill in the form below, or email us at schoolies@surething.com.au We're only one click away!
Schoolies Details and Packages are now available.
All employees at Sure Thing Schoolies are fully Accredited and Qualified.