The final year of high school is a very trying time for teenagers. There is the new pressure of making decisions about their future, while also keeping up with school work, improving grades and applying to universities or for apprenticeships. There are some exciting times, touring universities, school dances, yearbooks and graduation parties. But even the good times are mixed with a bit of sadness at the thought of saying good-bye to close friends who may be travelling after school. The one last celebration for most students is the much-anticipated schoolies week, where they can take their mind off the pressure and just have fun, like teenagers should.
Sure Thing Schoolies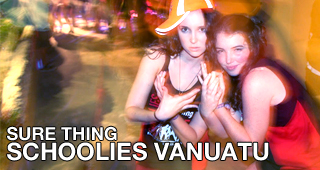 One of the most exciting events for a student, sometimes even more important than graduation, is schoolies. There is a sense of accomplishment that comes with graduating from high school and being able to move on to a higher level of academics, or perhaps entering the workforce. These achievements are certainly noteworthy, but they lack the sort of independence that comes with being left alone, completely independent and free to enjoy life during schoolies week.
Much to the chagrin of parents, this rite of passage has become somewhat mandatory for students graduating in this modern age. With the advent of wireless internet connection, smartphones and exhaustive social media networks, it is very easy for parents to keep tabs on their children, even during the fun party days of a wild schoolie trip. The only downside of knowing what your children are doing every second of every day is that you may find out a little more than you wanted to know.
Schoolies Week 2017
The week itself is not so much about where graduates go to relax and live out their dreams of independence, but rather the fact that they are actually left to their own devises – giving them perhaps their first taste of adult independence. In just a few days, friendships are forged to last a lifetime and many valuable lessons about financial responsibility, moral law and, sometimes, the consequences of irresponsible behaviour are taught by experience.
Students could choose to travel to Vanuatu or some other exotic island in the South Pacific. In fact, many groups do visit this area and other resort destinations along the Queensland Gold Coast because the communities are friendly toward schoolies and understand the tradition, so the business owners tend to not make a fuss over the noise or even a little bit of rowdiness.

Sure Thing Schoolies makes sure that students find the best accommodations to match the budget and enjoy a safe atmosphere that offers plenty of activities, including the original social networking – meeting new people, dancing at the Schoolies DJ festival and mingling with friends. Knowing their business and industry, qualified travel agents are able to constantly make new connections with hotels and resorts in the most popular areas. They also manage group rates and discounts for multiple restaurants and attractions that students love the most. If you are ready to have the time of your life, book your schoolies 2017 trip now! Just contact us to take the next step – it'll be pain free, we promise!