Pristine beaches, pleasant weather, affordable accommodations and plenty of beautiful surroundings are the beginning of a perfect holiday. It can be admittedly difficult to find all these features in one vacation spot, but Australia is full of natural wonders and pleasant surprises. For example, in the heart of Byron Bay is nestled a beautiful mixture of water, sand, peaceful tranquillity and thriving energy.
Surfers Paradise 4217
Of all the single venues within the Gold Coast area, Surfers Paradise is probably the most unique and beautiful area nestled along the beach. Originally named for the glorious and consistent waves coveted by the surfing community, the area quickly grew in popularity and is now an established resort hotspot. Visitors from all over the globe arrive to take in the scenic and majestic skyline, grand architecture of the skyscrapers and the luxury resorts that speckle the white sand beaches.
The waves are still producing the once in a lifetime opportunities for novice and professional surfers, but other travelers have preferred to drop surfers from the name and just enjoy the splendor of Australia's paradise. There are endless activities for Schoolies. Many of the featured excursions and things to do are low cost, and of course nature hikes are free. Anyone who enjoys bird-watching, exploring underwater sea life or just sunbathing will instantly fall in love with the lovely strip of paradise along the famous Gold Coast.
Schoolies Week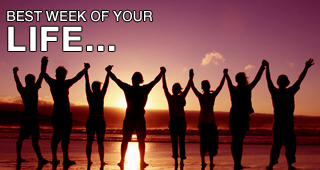 The beauty of the ocean, the perfect weather and the gathering of students all make Surfers Paradise schoolies the most talked about event of the year. Teenagers want to have lots of fun, make the most of their final year of school and de-stress with a great schoolie before embarking on the many new possibilities life has in store. The tradition continues to grow each year, and new spots compete for the business of the student population. However, some tried and true locations are just unbeatable for their convenience, fun activities and solid reputation for safety and quality.
The best schoolies accommodation has enough room for lots of friends to crash together or at least have rooms close to one another. Students also want to be able to afford to eat a few times each day, and for teenage boys that is no small feat! Resorts in Surfers Paradise understand the unique needs for students travelling alone and ensure that restaurant portions are both moderately priced and substantially distributed.
There is one word of warning for potential travelers, especially those who like to wait until the last minute to plan a holiday. Bookings for schoolies can reach maximum capacity quickly, so the best option is to reserve accommodations through a qualified travel agent and plan early to get the best rates and the amenities most desired. Some considerations for travel include necessary documents, spending cash and of course plenty of changes of clothing! With so much to see and do, teenagers will likely change outfits a few times during the course of a day.
Of course, you can also do Schoolies in Terrigal, Phillip Island, Torquay, Lorne, Magnetic Island, Sunshine Coast, and the overseas destinations including Vanuatu, Fiji, Thailand and Bali… Just ensure you get in with the Official Schoolies package!
If you'd like more information on schoolies accommodation, please contact us – we'd be happy to help.