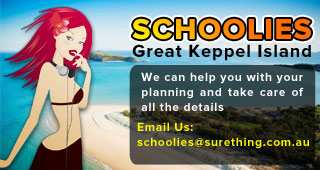 Spending Schoolies Week on beautiful Great Keppel Island is a great way to celebrate the end of school with your friends and school mates. Great Keppel Island is just a thirty-minute ferry ride from the mainland and regular ferry services depart from Keppel Bay Marina, providing easy access for day trips or overnight visits.
Great Keppel Island covers almost 1500 hectares and enjoys an ideal sub-tropical climate. It offers seventeen white-sand beaches and crystal-clear, tropical waters that are teaming with brilliantly coloured fish, other marine life and corals, making them perfect for swimming, snorkelling and diving. There are also numerous other water sports available to keep you entertained. For those who like bushwalking, the island's interior is a sanctuary to extensive native flora and fauna and a rich Aboriginal heritage just waiting to be explored.
Great Keppel Island enjoys a relaxed, casual atmosphere and is the perfect place to let the sun and sea free you from the stress of your last school year. Whether you want a holiday filled with awesome activities, want to chill out in a hammock under the palm trees, enjoy a casual lunch with friends, or stroll along the beautiful beaches, Great Keppel Island has it all.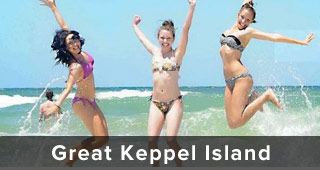 If Great Keppel Island sounds like the place for you, Sure Thing Schoolies offers a range of accommodation styles at prices to suit your budget. We can help you with your planning and take care of all the details to ensure you have an amazing, memorable Schoolies Week.
You only do this once—so get it right! Talk to the Schoolies Travel experts at Sure Thing Travel and let us design a package that is right for you. To take the first step, fill in the form below or email us at schoolies@surething.com.au
We're only one click away!
All employees at Sure Thing Schoolies are Fully Accredited and Qualified.