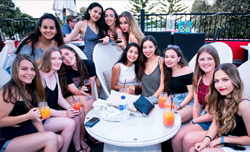 Terrigal is located at the southern end of a stunning 4km beach on the Central Coast of New South Wales, and is well- known as a top surfing spot. It's an enormously popular holiday destination, offering a vibrant café culture, panoramic views of the coast, great fishing, and scenic walks where you can take in the natural beauty of the area. It's also hugely popular as a Schoolies Week destination with its perfect combination of sun, surf, great accommodation and amazing Schoolies parties and events.
If you're planning to be a part of all Terrigal Schoolies 2018 has to offer you need to start planning and booking now, as the Official Schoolies Accommodation, Avoca Beach Hotel & Resort – the centre of all the Schoolies action and the only Schoolies accommodation in the Central Coast – fills fast.
Only 2km from Avoca Beach, and with facilities including two Swimming Pools, a Tennis Court and BBQ areas, Avoca Beach Hotel & Resort is the perfect place to relax and soak in the sun during the day, and then take part in the awesome Schoolies vibe every night that can be enjoyed by all Schoolies, regardless of age. There is also an Official Sure Thing Schoolies Party during the week, which is also for all ages.
Other activities on offer during the day include Movies, Surf Board Hire and Lessons, Fishing Charters, Scuba Diving and Microlight Adventures. You'll need to speak to your Sure Thing Schoolies Travel Consultant to get more details and check prices.
Sure Thing Schoolies Travel offers its expertise specifically and exclusively to Australian Schoolies, and is proud to be accredited by the AFTA Travel Accreditation Scheme (ATAS), which is your guarantee of receiving reliable and professional travel advice from its highly qualified staff. You can book your Schoolies Week knowing you're in the safe hands of a trusted and reputable travel agent who will make the process an easy one from start to finish. Sure Thing Schoolies also has a 100% Safety record for the 11 years that it has been running Schoolies events, and there are fully Accredited and Qualified staff on site at Schoolies accommodation at all times.
If you're ready to start planning, settle for nothing but the best and make your Terrigal Schoolies Week 2018 a Sure Thing! Sure Thing Schoolies Travel has a range of options available and can help you to choose the best one to suit your needs and budget. Sure Thing can also take care of all the details, from arranging flights and transfers to booking activities and tours.
Terrigal Schoolies 2018 Details and Packages are now available and will sell out fast, so don't wait! Complete the form below or email us at schoolies@surething.com.au