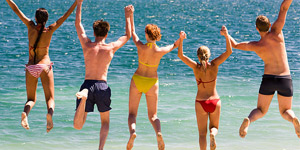 The most dedicated schoolies will admit that there is only one good thing about final exams in 2022 and that's that they are followed by Schoolies Trip 2022 – set to be one of the best holidays of their life.
So just what does this great new year of 2022 hold for schoolies?  Although it's exciting to anticipate having some time off it is also a time to get in a little rest and relaxation too, this holiday is also about parties and celebration, and our Sure Thing Schoolies won't want to miss a moment of pure pleasure at the awesome Schoolies events.
You can get all your rest by basking in the warm sun of Queensland's Gold Coast. Just imagine laying there for hours on end and not having to hit the books or rush off to class. Then as the sun sets it's time to party! So you don't want to miss out on one minute of what any number of fantastic schoolies destinations has to offer.
The Schoolies 2022 group are having a hard time deciding if they want to make their destination choice one that they have been to in the past, or if they are looking for a new adventure. It's a pretty tough decision to make when there are so many to choose from. To even make things a wee bit more difficult added to the choices are the fantastic Vanuatu Schoolies packages that are being offered – currently rated as the Number 1 schoolies event (The schoolies trip that is rated Number 1 is the Sure Thing Schoolies Vanuatu package). For Australian Schoolies this is just like having a little place of our great planet that they can call their own, friendly, sunny, safe island in paradise with the choice of attending the Sure Thing Schoolies parties event night.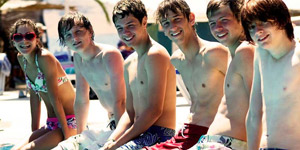 No matter which is going to be your place of choice you can count on having a good time. Even if you decide to break away from your own group of Schoolies and venture off on your own and head to Fiji schoolies you are going to find you have an opportunity to make a lot of new friends.You can enjoy some marvelous socialising while taking a dip in the warm waters that many of the beaches will offer you. Or perhaps heading to Byron Bay and enjoying some amazing night life and tempting your taste buds with some exotic cocktails would be the way for you to go.
If you are an avid fan of survivor then you may want to put the Survivor Vanuatu at the top of your list of choices (can be added as part of your Schoolies Vanuatu package). You can relive some of the wild events that the participants did. It isn't something that you would soon grow bored of and besides if you are looking for a break away from all the rules and regulations that come with being a student then this has got to be the hot spot for your schoolies 2022 holiday.
Don't forget though that planning your schoolies trip is only one part of your break. You need to be concerned about your transportation,accommodation and insurance. If you choose a quality travel planner then all of this is going to be looked after for you… Just make sure it's a schoolies travel, or someone who is accredited to tell you about some of the fantastic schoolies options available to you. If you like, we can also help you with any questions you have. You can contact some of Australia's best schoolies specialist trip planners on schoolies@surething.com.au Wow! Just think for once you don't have a heap of responsibilities to deal with. You just have to be getting yourself worked up to have the time of your life during your schoolies 2022 adventure. You can leave all of your travel and accommodation as well as other important details in our capable hands. We will make sure that you get where you are going hassle free: schoolies@surething.com.au