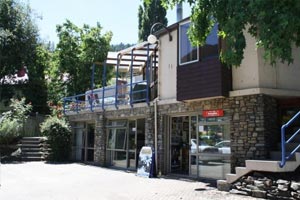 Aspen Lodge is situated in the heart of Queenstown, New Zealand (the adventure capital of the world). Aspen Lodge is one of the best ski resorts in the southern hemisphere and was a finalist in The Golden Backpacks 2010 award, run by TNT magazine.
Aspen Lodge offers clean, comfortable accommodation at very affordable rates in an alpine-style lodge. The atmosphere is warm and friendly, with the supermarket, shops and bustling nightlife just a short walk away. The accommodation ranges from backpacker 4 share and 10 bed dormitories, to their more luxurious yet affordable twins, doubles and ensuite rooms in the Lodge. You'll find this small, cosy hostel is the perfect place to relax and enjoy all that Queenstown has to offer. If you're looking for backpacker accommodation, you can't go past Queenstown's Aspen Lodge.
The fully Accredited and Qualified staff at Sure Thing Snow Travel strive to provide all customers with exceptional service, expert advice and can provide you with a complete travel package. So start planning your unforgettable snow-filled break today! To take the first step, fill the form below or email us at enquiries@surething.com.au
We are only one click away!