Big White Ski Resort is a very popular Canadian skiing holiday destination, situated in British Columbia's picturesque Okanagan region. Offering modern infrastructure and the impressive snow ghosts, it is Canada's largest ski-in, ski-out resort, with an average of 24 feet of pure, natural, champagne powder settling on the slopes each year. Big White is renowned for its snow quality and sunny skies, and has been rated one of the Top 5 Family Ski Resorts in the World by the Sunday Times. Ski Big White really is a first class, winter holiday destination. Unsurprisingly, "It's the Snow" is their motto.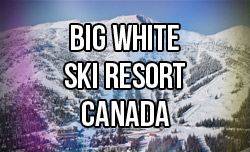 You may be travelling to Big White Ski Resort simply for a skiing and snowboarding holiday, but you'll soon discover you can have a true Canadian adventure. You can explore snow-covered hills by snowmobile; explore back country on cross-country skis and snowshoes; sleigh ride through the wilderness; or mush behind a husky. A variety of accommodation options are also available for your stay, whether you're after a cosy lodge, a condominium or a hotel suite. Big White's unhurried, unpretentious and friendly ambience will make your stay on the mountain one you'll always remember. Your stay in Big White can also be combined with a city stopover in Vancouver, Calgary or even Toronto if you wish.
So why not let one of our fully Accredited and Qualified Sure Thing Snow Travel consultants assist you with a holiday package, including accommodation, flights, transfers and lifts, for even greater savings on your holiday to Big White, Canada. You won't be disappointed!
To take the first step, fill in the form below or email us at enquiries@surething.com.au
We're only one click away!