Fernie is an authentic Canadian ski town that offers the deepest snow in the Rocky Mountains. It has 11.3 meters (37 feet) of snowfall a year, features a 1,082m (3,550ft) vertical rise, and has over 2,500 skier and rider accessible acres. The town of Fernie is an historical, turn-of-the-century coal mining community that has developed into a four-season holiday destination.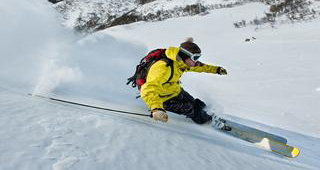 Fernie is renowned for its great snow, and is a ski holiday paradise for powder skiers and boarders alike. The five huge bowls are what make it unique, providing perfect terrain after a big dump of snow. Although Fernie offers excellent slopes for the more advanced skier, beginners are catered for as well with some wide slopes and easy trails, such as the renowned 'cruiser' trail, offering great panoramic views. Boarders will enjoy the very natural terrain, as well as the man-made fun parks. It is also one of the best places in the world for cat-skiing, a cheaper alternative to heli-skiing, if you're after another powder fix. Weekends on the slopes are usually busy, but it's much quieter during the week. Fernie has been very successful in receiving accolades, as several key awards have recognized the unique offerings of this Rocky Mountain paradise and its many top-quality services. Don't miss an opportunity to fall in love with Fernie. Mountains of Snow, Mountains of Adventure!
Sure Thing Snow Travel specialists can help you plan and book your trip including flights, accommodation, lift tickets, ski and snowboard rentals and more. We are very happy to tailor a package to suit you.
To take the first step, fill in the form below or email us at enquiries@surething.com.au
We're only one click away!
All employees at Sure Thing Snow Travel are fully Accredited and Qualified.