Kicking Horse is one of the hidden gems of interior British Columbia in the Canadian Rockies. It is located 2½ hours west of Calgary, nestled between the Purcell and Rocky Mountains in the heart of British Columbia. After just ten seasons it has attracted rave reviews for its awesome vertical, deep powder and spectacular terrain mix. The Calgary Herald called it "the best skiing in the world!"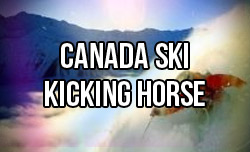 Kicking Horse currently offers nearly 12km² (3,000 acres) of pristine terrain and boasts a huge annual snowfall of 9 metres (30 feet) a year – making it the envy of neighbouring resorts. The skiing at Kicking Horse truly delivers, especially for strong intermediates and experts, with a huge selection of bowls and glades, all at challenging pitches. Skiing at Kicking Horse means bowls, chutes and steep gladed runs, and even on-piste some of the pitches will have the adrenalin flowing. Fresh powder is a regular occurrence and Kicking Horse truly delivers thrills and spills aplenty. Often compared to Jackson Hole, Kicking Horse has some massive terrain, but is also a wonderful place to learn to ski or hone your blue-square skills. A great destination for adrenaline junkies and families alike, Kicking Horse should definitely be on your list of resorts to visit this year!
Sure Thing Snow Travel allows you to make the most of your time on the mountain by removing the worry about any extra costs. We can design a superb holiday package, including flights, accommodation, transfers, lifts, and any other extras, that is just right for you!
To take the first step, fill in the form below or email us at enquiries@surething.com.au
We're only one click away!
All employees at Sure Thing Snow Travel are fully Accredited and Qualified.