Whether you prefer cross-country skiing or the rush of the downhill slopes, you will find that as soon as the winter chill begins to set in your thoughts will drift towards finding the ideal ski package for the new season. You can almost taste the wet cold powder on your face and feel yourself propelling downhill amidst beautifully manicured trails as you whoosh yourself to your final destination. There you can relax in front of a cozy fireplace with a hot drink to warm your heart.
For the perfect ski holiday,New Zealand offers some incredible deals with breathtaking views that are incomparable to other locations. The ski seasons range in different parts of the world, so make sure you time your holiday to take advantage of the best part of the ski season in your chosen destination. In New Zealand, the ski season typically runs from June to October.
Cross Country Skiing
Cross-country skiing has a long history in New Zealand so, if cross-country is your thing then you have to put Lake Wanaka on your list. Snow Farm is the only cross-country skiing area in New Zealand and offers you miles of tracks to enjoy. At Snow Farm your New Zealand ski holiday will be full of perfectly manicured trails each designed for every level of skier. Breathe in the crisp, fresh air as you take in all the breathtaking views all around you.
At the end of every trail you will arrive at either a backcountry hut, lodge, café, or a restaurant where you can relax and watch the sun set (or rise) at your leisure.
Downhill Skiing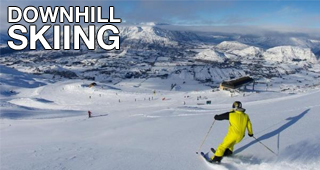 If you choose to ski New Zealand at Coronet Peak you will find some awesome trails for the thrill seeker in you. The terrain can have you sailing downhill at a pace that will get your blood pumping and your heart racing. But before you start hurling down those awesome slopes, take a minute to take in the picturesque view from the top.
The downhill trails at Coronet Peak have been described as an incredible roller coaster ride with rolling trails groomed for the most seasoned skiers. So, if you are a serious skier this would be a must for your New Zealand ski itinerary. They also have designated areas for the novice skier so have no fear if you're not quite up to the dare-devil rides that Coronet is popular for.
When you have had your fill of the beautiful snow packed mountain trails that cover the countryside, you can still enjoy your time relaxing as you take in all the other sights that New Zealand has to offer. Just a short drive away from any of the slopes you can also enjoy fine dining, cultural centers, hiking, kayaking and more.
No matter what your level of ability is or how much it will take to satisfy your sense of adventure, a New Zealand ski trip has something special waiting for you. Historically, people have traveled from all round the world for a chance to experience the majesty, beauty, and magnificence that is New Zealand. So, if you are looking for a travel spot that can fill all your vacation expectations New Zealand would be the perfect winter holiday. Contact us now for more information.