For many, the thought of New Zealand conjures images of beautiful sights and the perfect climate. Its picturesque beauty and awe inspiring landscape is the main reason people choose New Zealand for their vacation destination. This island nation has a long roster of things to do but if you're looking for a great place to get the most out of those cold, cold winter months then consider a New Zealand Ski Holiday.
The fact is that skiing in New Zealand has become a true international pastime. The ski season runs 5 months from June to October. No matter what level of skill you have you can find the ideal slope from gentle rises for the first timers to the dare devil twists, turns and dives for the more experienced. Imagine plunging down a tightly packed slope with an incredible lake and mountain view surrounding you on all sides.
South Island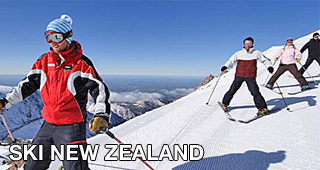 On the south island you will find the New Zealand ski resorts are top of the line. With awesome facilities for both your on and off slope enjoyment. Since the resorts are situated up high in the Southern Alps they tend to open much earlier in the season than other areas. Many are just a short driving distance from the Queenstown International Airport. This means you can jump off your plane and jump on the slopes in practically no time at all.
A visit to the nearby towns of Queenstown, Lake Wanaka, MacKenzie, Methven and Christchurch can have you situated so that you can easily access any of the slopes whenever you are ready. With so many areas to choose from it would be wise to do a little preparation before you head of to ski New Zealand's South Island. Make sure that you select a location that meets all your needs but still fits within your budget.
North Island
For your New Zealand ski holiday, if you find yourself in the region of the major cities of Auckland or Wellington you will also find plenty of ski resorts there too. Likely the most popular slopes are the ones at Whakapapa on Mt. Ruappehu. You can find a ski resort to accommodate you at Whakapapa Village nearby where they can certainly make you feel at home.
Traveling to the North Island for your ski holiday does need a little extra care and planning. The ski slopes are not as plentiful as they are on the South Island. It would be a good idea to schedule and make your arrangements well in advance as many resorts have limited accommodations.
At Rest
And when you are tuckered out from your skiing expeditions New Zealand offers plenty of other things to keep you busy too. From exploring their breathtaking scenery all around you or taking part in some of the cultural and historical attractions. Whatever you choose to do, there is the ideal spot for you and your family to get the best out of a New Zealand vacation.
If you need additional assistance with any booking, or have a special request, simply contact us via phone 1300 49 59 69 (extended office hours) or email us at enquiries@surething.com.au