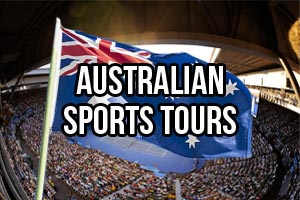 Australian Sports Tours can be the best way to get your mates together and follow your team.
Some people use it as an excuse to drink, take a holiday and celebrate their team's victory (or erase the memory of the loss with several schooners of beer).
"Sure Thing Sports Travel" puts together Australian sports tours for all Australian teams… Whether it's the cricket, football, golf, tennis, netball, rugby or bikini jelly wrestling. Our main aim is that your Australian sports tour is one you'll never forget, and therefore we have staff members who are actually passionate fans who are organising your sports tour package.
Booking with Sure Thing Sports Travel ensures you the Highest Quality, and peace of mind that you are dealing with staff who are both extremely capable and have had extensive personal experience, and therefore can give you the best and most detailed fair dinkum advice when it comes to Australian sports travel.
All employees at Sure Thing Sports Travel are Fully Accredited and Qualified.
For access all information on Australian sports tours, or to enquire/book a tour, or the check availability:
Click on the following link » » Australian tours: Sports Travel
If you need additional assistance with any booking, or have a special request, simply contact us via phone 1300 49 59 69 (extended office hours) or email us at enquiries@surething.com.au