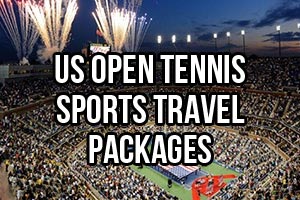 The US Open Tennis tournament always promises plenty of grunts, groans, squeals, shouts and excitement, and with the latest round of work completed at the USTA Billie Jean King Tennis Centre, this year promises an even bigger and better experience!
The US Open is held each year over a two-week period starting in late August. Held in Flushing Meadows, New York City, it is the fourth and final of the major events that make up the annual Grand Slam of Tennis (the others being the Australian Open, the French Open, and the Wimbledon Championships).
If you'd like to be amongst all the live action at the US Open, you can't go past a Sports Travel Package from Sure Thing Sports Travel. Whether it's your first visit or you're a seasoned veteran, we've got US Open Tennis Sports Travel Packages to suit all tastes, budgets and styles. Packages can be tailored to suit your preferences and can include official US Open tickets, flights, accommodation and much more! Sure Thing Sports Travel is your guarantee of the ultimate tennis experience!
To take the first step, fill in the form below or email us at enquiries@surething.com.au
We're only one click away!
All employees at Sure Thing Sports Travel are fully Accredited and Qualified.