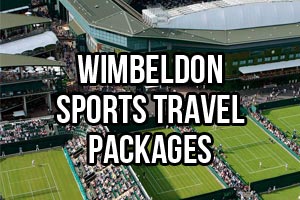 Wimbledon is the ultimate tennis destination for fans from all over the world. The amazing tennis, unique atmosphere, the Royals and celebrities, strawberries and cream, champagne—what more could you want? Let our friendly experts here at Sure Thing Sports Travel put you courtside!
Planning your Wimbledon Sports Travel Packages is easy with Sure Thing Sports Travel. With our packages, you will see some of the biggest names in world tennis taking part in both singles and doubles matches on the All England Club's historic courts.
Sure Thing Sports Travel Wimbledon packages can include: tickets, accommodation, flights, transfers, access to exclusive functions and more. We take care of all the little things to make sure you have a truly unforgettable Wimbledon experience!
So speak to one of our experienced and helpful Travel Consultants today! To take the first step, fill in the form below or email us at enquiries@surething.com.au
We are only one click away!
All employees at Sure Thing Sports Travel are fully Accredited and Qualified.