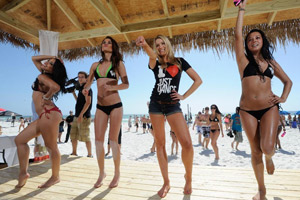 Here comes Spring Break!
Looking for the Ultimate Party? Now you've found it! Sure Thing Spring Break Travel will make sure you have an Awesome Trip that you will always remember.
Sure Thing is Australia's leading provider of Spring Break travel, with years of experience in providing Awesome Spring Break Trips to the very best Spring Break locations. Our staff have been there to check it out for themselves, so they know exactly what's on offer and where.
We offer the very best packages; everything from flights, to selecting the best Spring Break locations and choosing the top Hotels. We also give you access to the Hottest Clubs and Events every night, with free drinks, VIP entry to clubs and access to the best events, to make sure you are always in the middle of the action.
Sure Thing Spring Break Travel offers Packages to these Awesome destinations:
Cancun (Head Quarters of Spring Break)
Panama City Beach
Las Vegas
Bahamas
Miami
Package Include:
Return Flights
Exclusive Spring Break Accommodation
All Meals
Unlimited Drinks
Access to the Hottest Parties with leading DJ's and artists from around the world
So what are you waiting for? Awesome Beaches and Epic Parties Await You! Be a part of it all and book your Spring Break now with Sure Thing Travel.
To take the first step, fill in the form below or email us at enquiries@surething.com.au
We're only one click away!