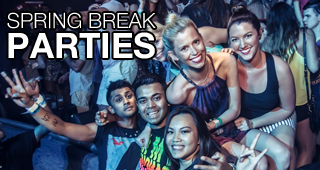 If you are looking for your ideal Spring break destination then you should give Panama City Beach some serious consideration. Located in Bay City, Florida on the coast of the Gulf of Mexico, the golden sandy beaches are just one of the reasons it has been crowned the capital of the Spring break world.
Club La Vela is the biggest club in all of USA and we can get you exclusive access to the nightclub and to the official Spring Break parties as well as beach concerts and Spring Break activities on the beach every day – don't miss out on what Spring Break is all about!

Location
The area has an amazing 27 miles of golden sandy beaches, with the emerald deep green waters of the Gulf of Mexico to ensure you can relish the trip of a lifetime. It offers a whole host of activities to enjoy including a myriad of water sports such as parasailing, surfing, kite boarding not to mention fantastic snorkelling and diving opportunities.
For those feeling less than adventurous, there are two great shopping areas to choose from. Pier Park, an open air, bright and colourful shopping extravaganza with national chain stores interspersed with local favourites and independent smaller retailers or Grand Panama which offers shoppers a fantastic mix of restaurants, salons and a variety of shops and retail outlets, to ensure a full and enjoyable day of shopping.
There is also a plethora of attractions to visit. Take a helicopter ride, sightseeing tour or a ride on an airboat to take in the highlights this fantastic beach has to offer. You can spend hours wandering around the attractions of the Emerald Coast Maze of Mirrors, the Marine Park and Ripley's Believe it or not, take in a movie at the Grand Theatre, enjoy an afternoon of mini golf or spend time swimming with the dolphins before heading out to enjoy the nightlife. Whether you are an adventure seeking wanderer or a sedate soul seeking rest and relaxation, you will be more than entertained by the splendid Panama City Beach.
The area offers an extensive selection of dining options to cater for any palette. You can choose from delicately prepared gourmet cuisine, fresh seafood, and delicious delicacies from a variety of bakeries to more casual dining options with pizza, barbecue and more international cuisine available. Whatever your preferences the sheer variety of establishments available will mean that even those with the pickiest appetites will not go hungry.
Places to Stay
Panama City Beach has a selection of hotels, motels and apartments available which is just as vast and able to accommodate every budget with even the more modest accommodations generously equipped with satellite television, high speed internet, outdoor pool, maid services and tea and coffee making facilities.For those with a more lavish budget, the standard of hotels is excellent with most having spa facilities, poolside bars, more comprehensive kitchen facilities and balconies with amazing views of the Gulf. There are a variety of special offer packages available specifically for those on a Spring Break. Most of you reading this would want the genuine Spring Break experience… if that's the case then ask of for the details of the Spring Break Headquarters Resort in Panama City Beach this year – that's not the name of the resort by the way, that's the title they give to the resort where all the Spring Break action is on that particular year!
If you are interested in learning more about this or any other popular Spring Break destination, then please contact us. We would be happy to assist you with any aspect of planning your holiday and will be delighted to answer any questions or queries you may have.