Aquana Beach Resort is just 15 minutes away from Port Vila Vanuatu, shuttle transport to and from Port Vila is provided free of charge once a day at a scheduled time. Prepare to be enchanted with Vanuatu's newest family friendly boutique resort on one of the most gorgeous beaches on the island.
Set in acres of untouched tropical rainforests, island flowers and exotic fruits. The resort features ocean views and modern bungalows,each room is air conditioned and has internet-enabled TV, video game console, satellite television service and DVD player. Guestrooms offer complimentary bottled water and complimentary toiletries and each guestroomfeatures a phone and luxurious Egyptian cotton sheets and premium bedding.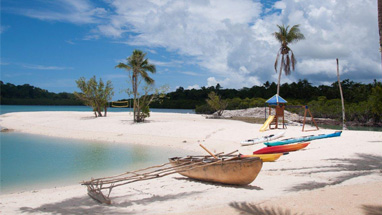 There are 8 one and two bedroom villas perfect for families and couples on holiday, choose from 1 Bedroom Deluxe (Beach view), 1 Bedroom Superior (Beachfront), 2 Bedroom Deluxe (Beach view) and 2 Bedroom Superior (Beachfront). They serve complimentary continental breakfast every morning at the restaurant and the recreational activities include an outdoor pool, kayaking, snorkelling and complimentary use of bicycles, and much more.
The Aquana Beach Resort restaurant is staffed by European chefs and offers delicious meals using local fresh produce, the menu is varied with dishes to satisfy the most discerning customers and if you wanted to have a romantic dinner for two your dinner can be arrangedon a private jetty at sunset giving you the most romantic atmosphere your heart can desire.
The crystal clear water invites you to a perfect opportunity to take part in water sport activities such as outrigger canoeing or snorkelling or you can go fishing, golf, surfing, scuba diving, horse riding, parasailing, abseiling, volcano trip, land diving, off road buggy and beach volleyball giving you the most memorable and enjoyable holiday.
Tired Body? Aquana Resort can provide you the most relaxing treats. The resort offers the following Massages; 30 minutes head, neck and shoulders massage, 30 to 60 minutes Island relaxation massage, 30 to 60 minutes Swedish massage and a 2 minute foot massage.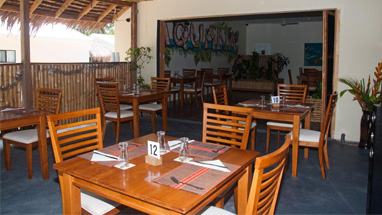 Want to see more of Vanuatu? Why not go on a tour, there are various tours to choose from and some of these tours are the Village Tour and the Blue Lagoon Tour. The Village Tour will let you see the beauty of the Island and its friendly locals and how they live and we suggest that you should not miss to visiting the blue lagoon which is one of the most visited spot in the Island, you can swim in the amazingly blue water and swing like Tarzan into the lagoon.Better still, a full day round island tour gives you the most amazing all-round experience all in one day, this particular tour produced by Sure Thing Vanuatu Travel gets particularly good reviews and is the most recommended Vanuatu tour available.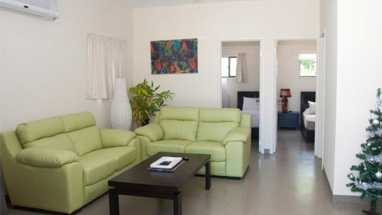 Aquana Beach Resort is also one of the best places for Wedding events. Given the great location and the fantastic quality service and delicious food, Aquana resort can provide you with the most amazing and memorable tropical island wedding.
Prepare to be enchanted with the resort's natural beauty and expect great services offered to you by Aquana Beach Resort. Picture your perfect getawaythis holiday season and forget all your worries in this tropical paradise.
Once you decide to proceed with your holiday, the best step you can take is to contact Sure Thing Vanuatu Travel – The leading Vanuatu wholesaler in advice and price – All employees at Sure Thing Vanuatu are Fully Accredited and Qualified… and as they say "No one knows our island better than Sure Thing Vanuatu Travel". If you need additional assistance with any booking, or have a special request, simply email us at enquiries@surething.com.au
We look forward to seeing you and hope you Love Vanuatu as much as the rest of us do!