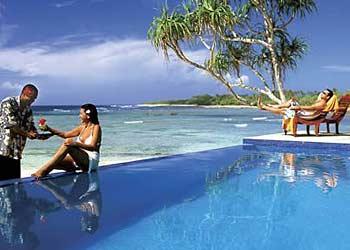 Breakas Beach Resort is situated directly on a 2km private beach on the Pacific Ocean in Vanuatu and 10 minutes away from Port Vila, a beautiful beach resortwhich provides an intimate holiday retreat for all couples and a has an X factor, a fantastic holiday experience to those who seeks understated elegance in an Adults Only (child-free) environment.
An ultimate "Feet in the Sand" beach holiday and enhanced by the stunning beauty of a private cove on BreakasPango peninsular which provides an unrivalled backdrop in Port Vila and also features their fabulous 22 metre infinity pool which falls into the horizon of the Pacific Ocean coast of Vanuatu. Breakas Beach Resort Vanuatu Offers lots of activities and organises Romantic wedding ceremonies either with an intimate exchange of vows for just the two of you on the beach as the sun sets or with an extravagant ceremony and reception for you and your guest (You can choose Birds from Paradise Wedding or Frangipani Wedding), they also cater other special occasions, a Day Spa which offers various beauty treatments and relaxation to restore harmony and your inner peace. You can choose from Tropical Massage (Full Body), Head, Face Neck, Relax and Restore Aromatherapy Massage, Neck Back and Shoulders and Foot Massage. You can even have a manicure and Hair Braiding. The spa is conveniently located next to the Beach Café.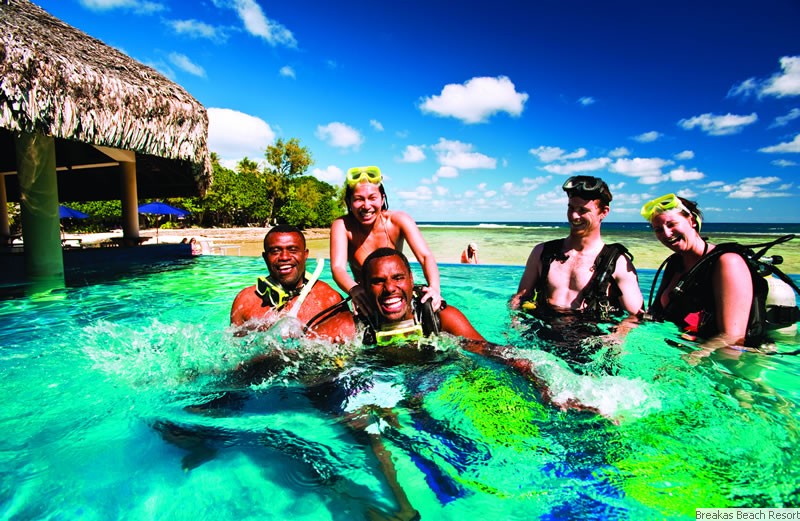 Looking for Fun activities? Surely no dull moments when you're in Breakas Beach Resort you can do Snorkeling and see the beauty of the underwater world, corals and fans cling to overhangs and cliffs in the Reef or experience Diving expeditions that could begin in 22m infinity pool with an introductory diving lessons for the beginners and for advanced diver there is an exquisite coral reef teeming with spectacular coral formations, exotic marine species and tropical fish only 100 meters from the shore. Another way to see more of Vanuatu is the Local Village Tour where you can meet and greet the friendly locals in the Island and all the travellers in Vanuatu should not miss the Island and Sunset Cruise; enjoy the wind in your hair as the sun slowly disappears on the horizon. A great way to end the day, relax and have fun.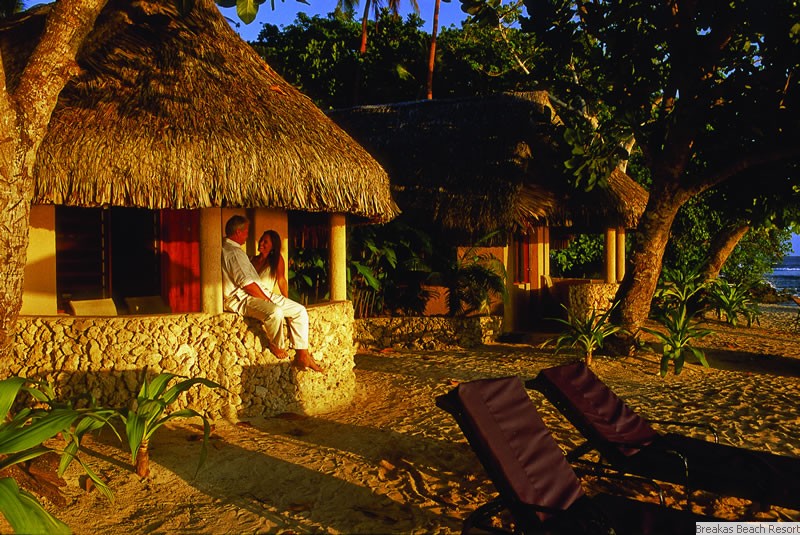 The resort displays traditional Pacifica and Melanesian style of accommodation and is awarded for their distinctive tropical design for their Beach Front and Garden Fare Bungalows, facing the ocean with a unique open-air coral bathroom, featuring a divine Natangora Thatched Ceilings and stunning timber shutters which draw the breezes and filter the soft light of the tropics. Each Bungalow has a private entry and makes the most ofit's setting with a balcony perfect for alfresco reading or cocktails at sunset. They also have 8 fully self-contained, serviced luxury Villas and each Villa features three individual king size suites, a private pool and courtyard fit for groups and families (children over 15 years old are welcome).
While you're at the resort and if you have any questions or requests, you can go directly to Whenever Services. It is located at Reception to attend to your needs, to help you out and answer all your requests. Whenever Services will solve all your problems, whether booking a table in the restaurant, attending outside event or even hiring a private yacht Whenever services is always at your side. They also take care of arrival and departure processes to make it as seamless as possible to slip into immediate holiday mode.
Breakas Beach Resort has captured the essence of a home away from home in a tropical wonderland.
Once you decide to proceed with your holiday, the best step you can take is to contact Sure Thing Vanuatu Travel – The leading Vanuatu wholesaler in advice and price – All employees at Sure Thing Vanuatu are Fully Accredited and Qualified… and as they say "No one knows our island better than Sure Thing Vanuatu Travel". If you need additional assistance with any booking, or have a special request, simply email us at enquiries@surething.com.au
We look forward to seeing you and hope you Love Vanuatu as much as the rest of us do!