Deco Stop Lodge is situated on an acre of land on overlooking the Segond Canal and just a five minute walk from town, Luganville, a perfect place for all travellers who are looking for a relaxed stay in Santo with the added bonus of waking up to a million dollar view. Surrounded by happy and friendly people with full of knowledge and amazing stories, Deco Stop Lodge is a great place to stay with well-appointed rooms, good-value pricing and stunning views.
The accommodation consists of 12 units, each equipped with a small fridge, tea/coffee making facilities, insect screening, hot running water, electricity and own private bathroom facilities. All units are modern, airy and comfortable, so whether you are travelling with your family, as a group or a couple, Deco Stop Lodge can accommodate your needs. Guests are treated for continental breakfast which consists of hot toast, cereals, and fresh local fruits to start up your day.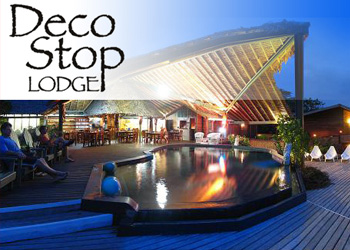 The restaurant has been improved to make it as one of the best restaurantsin town, featuring fresh local seafood, the best lobster and Santo's famous organic steaks that will make your dining experience worth remembering. Deco Stop Lodge also has a fully stocked bar, pool, entertainment room with SAT TV and DVD, Internet connection is also available to get you connected.
From Deco Stop LodgeLuganville, you can explore various parts of Espiritu Santo including the wonderful beaches, amazing blue holes, conservation area and caves which turns your Vanuatu holiday into an amazing cultural experience!
For the best view in Santo, Deco Stop Lodge has it all. Feel the sea breeze on your balcony with their friendly and helpful staff and find out why people book this hotel and give it such great reviews.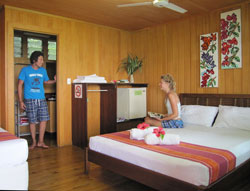 Discover the many wonders of the island from diving the largest accessible wreck in the world (SS President Coolidge) to snorkelling at some of the most beautiful coral reefs, trekking to famous Millennium Caves, Horse Riding along the beach or in the forest, quad and buggy adventures, jet skiing, kayaking and paddling through the crystal clear water, all in one place.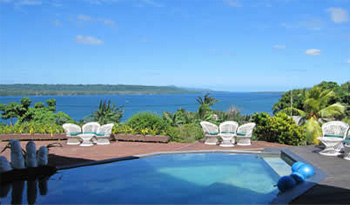 Espiritu Santo – the largest island in Vanuatu and one of the few places in the world where you can experience privacy and relaxation just a short flight from the main cities in Australia and New Zealand. Deco Stop Lodge is the most sought after accommodation for all travellers who seek adventure, relaxation and value on their holiday in Santo.
Once you decide to proceed with your holiday, the best step you can take is to contact Sure Thing Vanuatu Travel – The leading Vanuatu wholesaler in advice and price – All employees at Sure Thing Vanuatu are Fully Accredited and Qualified… and as they say "No one knows our island better than Sure Thing Vanuatu Travel". If you need additional assistance with any booking, or have a special request, simply email us at enquiries@surething.com.au
We look forward to seeing you and hope you Love Vanuatu as much as the rest of us do!