Erakor Island Resort is located on a small coral island sitting right off Port Vila's east shore in Erakor Lagoon – a true South Pacific Island experience with the convenience of easy access to Port Vila city centre. Erakor Island Resort issurrounded by white sand beaches and crystal clear blue Vanuatu waters. You can arrive there by bus or a car transfer and you can use the 24 hour boat transfer going to the Island for just 5 minutes, this boat transfers is free of charge provided by the resort.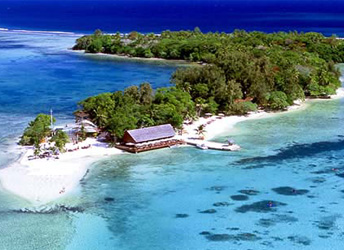 Erakor Resort offers 21 Villas and is perfect for both families and couples wanting to have a Fantastic Beach Holiday and a great spot if you're looking for a secluded place without feeling isolated. The bungalows are scattered through the island, the rooms are spacious and equipped with a tea/coffee maker, clock radio, fridge, fan, iron and ironing board. There are no phones or TVs in the room to spoil the tranquillity of the resort howeveryou useErakor's tropical style lobby with an internet cafe. Of course, there is great mobile reception too if required.There are various types of accommodation and you can choose from Lagoon Villa with the maximum capacity of 2 Adults, Oceanfront Villa features a spa bath, Beachfront Deluxe Spa Villa which also features a spa bath. Waterfront Family Villa and Sunset 2 Bedroom Loft Villa is best for families on holiday however unsuitable for children under 5 years due to the stairs.
Relax and have fun at the beach; enjoy the complimentary use of the resort's non-motorised water sports such as catamarans, paddle skies, snorkel gear, and kayaking around the blue crystal clear water of this island resort, explore the beauty of the lagoon and its inlets. Then relax with a cocktail during sunset, or have fun with staff and guests at the beach volleyball court.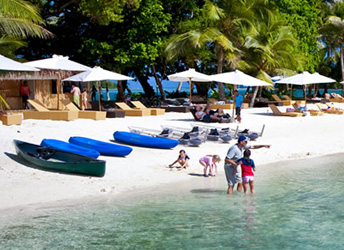 The Roxy's on the Lagoon is an overwater restaurant and cocktail bar at Erakor serving you the international style of food and prepared by the international chef. The menu features local seafood and Santo beef, open for breakfast, lunch and dinner. All very well priced and receiving great reviews. There are also weekly Melanesian Feast nights every Thursday with cultural shows and on Sundays enjoy the BBQ with live local music while on Mondays a Pizza & Pasta night with free wine for ladies.
Relax and Rejuvenatewith Erakor's Day Spa which is the only Port Vila's full service Day Spa, offers a pampering Thalgo and island treatments that will surely satisfy your tired body. The Volcano Stone Massage is also recommended for guests.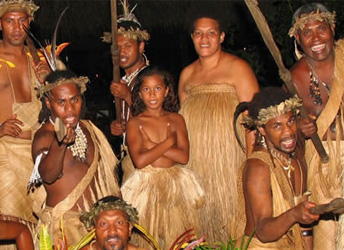 Say your"I Dos" at Erakor Island Resort, one of the most ideal places for your Tropical Island dream Wedding. Whether just the two of you or with your family, Erakor's wedding packages are perfect for you. The open-air Erakor Chapel is the very first church built in the Pacific Islands which you can host your unforgettable wedding. Choose from the Tropical Simplicity Ceremony a simple yet sweet celebration, Tropical Fantasy Ceremony which is filled with melody and harmony, Tropical Two – WeddingMoon Special to connect your hands and hearts with the beautiful Pacific skies, Tropical Dream – Complete Wedding Special to make it the ultimate Vanuatu wedding.
Create your life-long memories at Erakor Island Resort and Spa and escape from your Busy world to the "Happiest Place on Earth" – Vanuatu. This resort has received great reviews from guests and is highly recommended by our staff.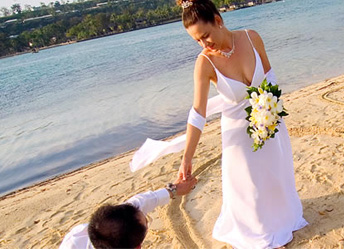 Once you decide to proceed with your holiday, the best step you can take is to contact Sure Thing Vanuatu Travel – The leading Vanuatu wholesaler in advice and price – All employees at Sure Thing Vanuatu are Fully Accredited and Qualified… and as they say "No one knows our island better than Sure Thing Vanuatu Travel". If you need additional assistance with any booking, or have a special request, simply email us at enquiries@surething.com.au
We look forward to seeing you and hope you Love Vanuatu as much as the rest of us do!