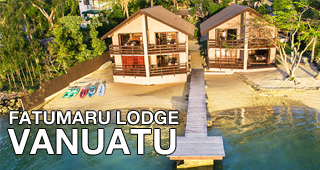 There is a great selection of hotels available for the tropical tourist destination of Vanuatu. Located ten minutes from downtown Port Vila on the Vanuatu main island of Efate, the Fatumaru Lodge is a lovely beachfront Melanesian boutique hotel. Situated on a relaxing white sandy beach, with a stunning view of Fatumaru Bay, this hotel is one of the most spectacular hotels in Port Vila. Relax in the beautiful surroundings, try out the tremendous selection of water based activities, or use the hotel as a base to explore Port Vila and the rest of the island.
Visitors have reported that the atmosphere of the Fatumaru Lodge is warm and welcoming, providing a touch of luxury with great value for money, and many tourists have found this review helpful and accurate when contemplating their own stay. The lodge is centrally situated, which makes it ideal to fully appreciate all the activities and natural attractions that the area has to offer. Visitors can enjoy the colours of the local market with their arts, crafts and fresh food in the morning, and spend the afternoon lounging on the private beach.
Accommodation Types
Fatumaru Lodge, Port Vila has two types of spacious accommodation available, the Seafront Studio and the Seaview 2 bedroom. The Seafront Studios are a comfortable 45 square meters in size. Sleeping facilities include one queen size bed, along with a sofa bed. The Seaview 2 bedroom, as the name would suggest is a 55 square meter 2 bedroom apartment, with a queen size bed in the master bedroom and a pair of single beds in the ensuite bedroom.
Both types of room have examples of exotic teak furniture, and are uniquely decorated in a contemporary style, with Melanesian artwork depicting scenes from Vanuatu's history. They both have private covered terraces, large folding doors with panoramic views over the bay,air conditioning, a kitchenette with microwave, refrigerator and stovetop, in addition to tea and coffee making facilities, satellite TV, DVD player and free wireless internet. With either accommodation you are sure to enjoy a restful night's sleep with premium bedding and black out curtains provided as standard.
Extras and Inclusions
The hotel offers daily housekeeping, babysitting and laundry services for a supplemental cost. Beach towels are available to use free of charge, baby cots and high chairs are also available on request. At reception you will find a tour desk, safe deposit facilities, a DVD and book library and luggage storage. There is an outside pool with a poolside breakfast service available from 7.30am, in addition to a picnic area, gardens and a private beach.
If you are interested in learning more or have questions about this review then please contact us. We would be delighted to assist you with selecting hotels in Port Vila or any aspect of planning your holiday. We would also welcome any comments you may have if you found this review helpful.