You Can't Pass Up What the Havannah Resort Vanuatu Has to Offer

While the thought of having a holiday in Vanuatu is most inviting, making plans to stay at the Havannah Resort Vanuatu is going to heighten the excitement. This is one of the most well-known and prestigious accommodations that are found just a short distance from Port Vila itself.
One of the best features about the Havannah Resort Vanuatu is that it only provides its exquisite services to 32 guests at a time. You will never feel that you are being lost in the crowd while enjoying your stay here. Every guest is treated as being special. For those that wish to begin their Vanuatu holiday with some rest and relaxation then there could be no better location to do it in. The Havannah Resort emphasis is based on their being a boutique type resort that is happy to pamper their guests from the moment they arrive until they are ready to leave. It is the type of resort in Vanuatu that once you arrive your only wish is that each moment will drag by, because you cannot stand the thought of having to leave this amazing resort Vanuatu. It has become the hot spot for couples who are newlyweds to those who are enjoying many years of marriage and wish to make their anniversary just as special as their relationship.
The pristine beach front locations create an atmosphere that is non-stop enjoyment. With the limited number of guests being served at one time at this resort, it promotes a wonderful opportunity to socialise in a small setting when the desire is there to get to know people. When privacy is the priority it is easy to access within the comfort of one's own villa.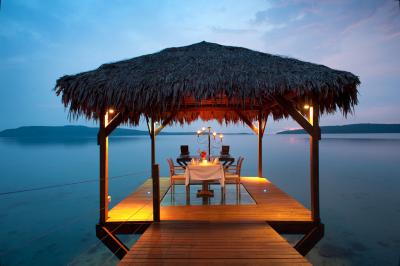 The Arôm' Essence Day Spa located at the Havannah Resort Vanuatu leaves nothing to be desired. Even for those that have not had the pleasure or are somewhat timid about making using of spa services, find that they are soon able to relax in pure bliss. It all takes place in a tropical garden, and there are even his n her services to be taken advantage of. A treatment that offers the ultimate in relaxation is the first on the list, then before leaving Vanuatu you will certainly want to schedule in time for a revitalisation treatment to prepare you for your journey home.
As much as you will want to enjoy the wonderful weather of Port Vila and exotic outdoors you will have to convince yourself to do so and leave your luxurious air conditioned villa. The comfy king size beds here are ones that will be hard to arise from, but then when you are aware of the wonderful outside day bed that is awaiting you then you will indeed make the effort.
We would be happy to make all of your travel arrangements for you and prepare for you stay at the Havannah Resort Vanuatu. Once you have made the decision that this is where you want to enjoy your stay at Vanuatu, make sure you book your spot through us quickly as we provide the expertise, service and the very best prices. It is a most popular destination and you want to make sure you are included as the next group of visitors which are being welcomed at the Havannah.
Sure Thing Vanuatu recently made the front page of Vanuatu's National Newspaper where their continual work and expertise of Vanuatu's tourism industry was acknowledged. Booking with Sure Thing Vanuatu ensures you the Highest Quality, and peace of mind that you are dealing with staff who are both extremely capable and have had extensive personal experience with Vanuatu, and therefore can give you the most detailed and honest advice when it comes to The Havannah.
We have staff who have visited The Havannah multiple times in person. All employees at Sure Thing Vanuatu are Fully Accredited and Qualified.
Best Rates are GUARANTEED – Sure Thing Vanuatu Travel cannot be beaten on price
The Havannah: Rooms now available
For access all information on The Havannah, or to enquire/book a Vanuatu holiday, or the check availability for your dates: Click on the following link: The Havannah Vanuatu Enquiry

If you need additional assistance with any booking, or have a special request, simply email us at enquiries@surething.com.au