On the Water's edge of peaceful Erakor Lagoon, Poppy's on the Lagoon is designed to take advantage of the cooling breeze of the South Pacific trade winds, nestled amongst tropical gardens and just 15 minutes walk from the town centre, this Vanuatu hotel is within easy reach of National Museum, Parliament House and nice beaches. Guests will be able to feel the seclusion and privacy of the resort's private beach and enjoy the waterfront location.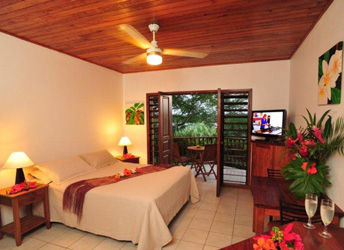 Poppy's on the Lagoon caters for families with children offering a kids pool and babysitting/child services which provides a safe yet fun environment for families to interact, and there are other room options that would suit for couples and small groups. You can choose from Lagoon View Studio with water views of Erakor Lagoon, Garden View Bungalow which is located next to the adults pool with private patio overlooking the tropical gardens or pool area, Beachfront Spa Bungalow features private indoor spa and balcony, 2 Bedroom Lagoon View Villa overlooking the pool or the lagoon area and 3 Bedroom Beachfront Villa which is a full sized house positioned higher up in the resort to capture the cool island breeze. All rooms at this hotel are fully self-contained, making Poppys an ideal choice in Port Vila Vanuatu. All guests can also enjoy the lush gardens, 3 swimming pools, and mini day spa. If you are having your honeymoon, the Beachfront Spa or Lagoon View Studio is the perfect choice, receiving an abundance of great reviews. Poppy's on the Lagoon offers the perfect honeymoon package with flowers in your room, complimentary champagne, peace and tranquility guaranteed.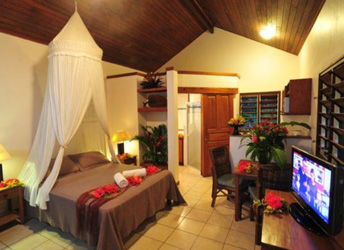 For your dream Wedding, Poppy's on the Lagoon offers different packages such as the "Poppys Pacific Dream Wedding Package" and "Poppys Complete Wedding Package" which includes accommodation. Celebrate your Partnership in Paradise by their Renewal of Vows package, this includes a personal pre-planning consultant, personal on-resort wedding consultant, tropical fruit platter and either sparkling wine or fresh juice for breakfast, Bridal bouquet and groom's boutonniere, decorated tropical heart on the site for the ceremony and celebrant.
Poppy's on the Lagoon has a beachfront open-air restaurant called Banana Leaf. The restaurant offers delicious meals including full cooked breakfast, pancakes, hamburgers and grills made fresh to order, pastas, local organic beef, prawns and fresh fish on the dinner menu inspired from local fresh tropical produce.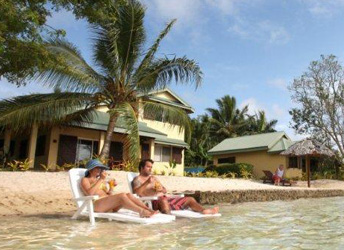 Enjoy the free summer activities such as Kayaking and Snorkeling, resort BBQ facilities, Traditional outrigger canoes, French bowls (pentanque) area, Outdoor swimming pools, French and English speaking staff, toddlers playground and book library. The following activities are also available with a small fee: Weekly Melanesian Feast Night, Island Massage, Pedicures and Hairbraiding.
Poppy's on the Lagoon – a friendly and very welcoming resort which makes your Holiday unforgettable for families and couples on holiday in Vanuatu.
Once you decide to proceed with your holiday, the best step you can take is to contact Sure Thing Vanuatu Travel – The leading Vanuatu wholesaler in advice and price – All employees at Sure Thing Vanuatu are Fully Accredited and Qualified… and as they say "No one knows our island better than Sure Thing Vanuatu Travel". If you need additional assistance with any booking, or have a special request, simply email us at enquiries@surething.com.au
We look forward to seeing you and hope you Love Vanuatu as much as the rest of us do!