The Sebel Vanuatu is a fantastic place to have your holiday, nestled in tropical Port Vila, Vanuatu.
It's important to do your research and get a good idea of what you're in for before dedicating your holiday period and hard-earned money towards a holiday on our South Pacific Paradise Island of Vanuatu. This doesn't necessarily involve listening to TV news stories or reading travel magazine, but rather, listening to others who have previously experienced The Sebel Vanuatu, whether it be family, friends, colleagues or Mary from next door.
Best advice and prices guaranteed for The Sebel Vanuatu!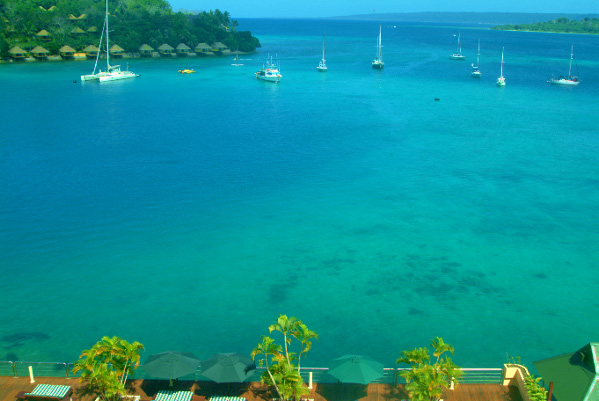 The view from The Sebel Vanuatu. Want a room with this view? Ask us how
The staff at 'Sure Thing Vanuatu' are the genuine experts when it comes to Vanuatu. In fact, our Company Director personally spent two months in Vanuatu to inspect the accommodation (including The Sebel), flights, restaurants and tours across seven of the islands to absorb every detail which would be of concern to a potential tourist (as acknowledged by the Vanuatu Tourism Office).
Our main aim is that you Enjoy Vanuatu and Visit Again, and therefore we aim to give you an accurate a picture as possible in order for you to take in all considerations before you book your room at The Sebel.
95% of our Vanuatu bookings say they'll Return To Vanuatu Again.
'Sure Thing Vanuatu' has detailed reviews of The Sebel Vanuatu, including details of activities, dining options, room types, as well as being able to tell you which specific room would best suit your specific holiday needs. Since we have actually been to The Sebel Vanuatu we can even give you little tips like which room has the best views, etc. This is a unique 'Sure Thing Vanuatu' service which you will appreciate to no-end once you arrive at The Sebel, and it's most likely you will thank us for it and join the 95% who will return to Vanuatu Again! (That's 19 out of 20 bookings!).
Sure Thing Vanuatu recently made the front page of Vanuatu's National Newspaper where their continual work and expertise of Vanuatu's tourism industry was acknowledged. Booking with Sure Thing Vanuatu ensures you the Highest Quality, and peace of mind that you are dealing with staff who are both extremely capable and have had extensive personal experience with Vanuatu, and therefore can give you the most detailed and honest advice when it comes to The Sebel.
All employees at Sure Thing Vanuatu are Fully Accredited and Qualified.
The Sebel: Rooms now available
To access all information on The Sebel, or to enquire/book a Vanuatu holiday, or the check availability for your dates, Simply go to the Vanuatu Travel Enquiry and submit your enquiry.
If you need additional assistance with any booking, or have a special request, simply email us at enquiries@surething.com.au