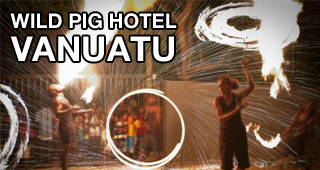 Wild Pig Hotel Vanuatu is affordable accommodation with wonderful staff. It is located in the town of Port Vila.
Looking for a resort that is pretty central to everything, has hospitable staff and relatively cheap? Then Wild Pig Hotel Vanuatu may be for you!
Wild Pig Hotel Vanuatu has a nice swimming pool and outdoor area for guests, and the Fire Show is a great add on. Enjoy great food for breakfast, lunch and inner.It's close to the museum, parliament, shops and supermarkets. Also very easy to get to from the airport with a local taxi. Rooms are simple, clean and comfortable. You feel that for what you pay, you get a good deal. This hotel will also provide you with a good base from which you can explore the surrounding islands.
The staff at Sure Thing Vanuatu serve and help you in arranging your flights and accommodation. We also spent the time to inspect this hotel and gain first hand experience. This will ensure you find the best hotel possible.
Sure Thing Vanuatu is happy for you to use our service in going to Vanuatu and staying at Wild Pig Hotel. We have a lot of knowledge about this hotel since we have actually been here. Therefore we can give you the most detailed and honest advice when it comes to this hotel. Simply email us at enquiries@surething.com.au
Your memorable and unforgettable trip begins here! Don't wait until it's too late… so get booking!
If you need additional assistance with any booking, or have a special request, simply email us at enquiries@surething.com.au