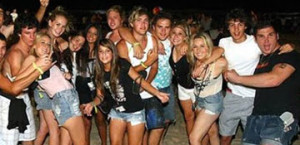 Full Moon Parties Bring Out the Best in the Moon… and You Too
It's one of the biggest parties on the planet!.
Thailand is well known for its ability to provide the ultimate holiday for the travellers no matter the age or gender
What you can expect to find at a Full Moon Party in Koh Phangan is plenty of people, epic music, loads of drinks and a huge night of partying. Each year the attendance grows in leaps and bounds thanks to the constant news coverage this event receives. Of course the guest of honour at the party is the moon itself in all its fullness while the guests themselves express their enthusiasm by enjoying the large array of music with plenty of dancing and not stop refreshments.
There is no greater opportunity at one given play to be able to enjoy the Full Moon as there is in Thailand. People now come from around the world… From Latino and European men, to Swedish and American girls, and of course, plane-loads of Australians!