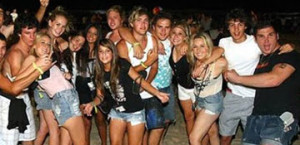 Full Moon Parties bring out the best in the moon… and you too! For the best Full Moon Parties, we've got you sorted. Sure Thing Travel has the best deals on flights, accommodation, transfers and tickets to the Full Moon Party in Thailand. 
Thailand is well known for its ability to provide the ultimate holiday for the travellers no matter the age or gender. People flock to Thailand each year to enjoy the relaxed beach and island life, delicious Thai food and an incredible party scene. For the youth travellers, Full Moon Parties are the biggest drawcard and each month Thailand transforms into one of the biggest parties on the planet. 
What you can expect to find at a Full Moon Party in Koh Phangan is plenty of people, epic music, loads of drinks and a huge night of partying. Each year the attendance grows in leaps and bounds and young travellers come from around the world to experience these parties.
Of course, the guest of honour is the moon and it illuminates the sky while guests enjoy an unforgettable night of music, dancing and socialising with an international crowd in a mesmerising location by the sea.
A real #YOLO experience and one you'll never forget. Let us help you plan this once in a lifetime holiday with your friends. We have 14 years experience organising Full Moon Party Packages and know where to stay to soak up all that Thailand has to offer.