IT'S THE SHIP is anything but ordinary! It has everything a party vacation should have and more. There are parties to experience, some relaxation to do, friendships to be made and even some surprises to encounter… who knows? Anything is possible when you find yourself on board one of the best musical adventures, alongside other like-minded people on land and sea!
THEMED POP UP PARTIES
Ain't no party like a pop up party on IT'S THE SHIP! This is your chance to put on that crazy outfit hidden at the back of your wardrobe and finally put it to use, as you dress to impress for the many themed parties on board. From the all-time favourite Onesie Party to the loud and colourful Bloc Party, photo opts are abound as you dance the night away decked in the wildest threads you own!
SIDE ACTIVITIES WITH ARTISTS
"Backstage passes"? "Meet and greet passes"? What are those? On IT'S THE SHIP, you are most likely to bump into your favourite DJ while you're in line for breakfast, while you're having a dip in the pool, or they just might even be busting a move on the dance floor right next to you! If you prefer not to leave things to fate, sign up for the various side activities with artistes including a yoga session, whiskey and cigar session and even some good ol' beer pong to name a few fun stuff!
RELAX WITH THE BEST FACILITIES
Take a break from the very serious business of partying to explore the ship and its facilities. Enjoy a few hours of pampering at the spa with your girls (or boys), try out all of the different waterslides, shop 'till you drop at the multiple luxury stores, or simply bask in the sun while sipping your favourite drink. This is a vacation after all!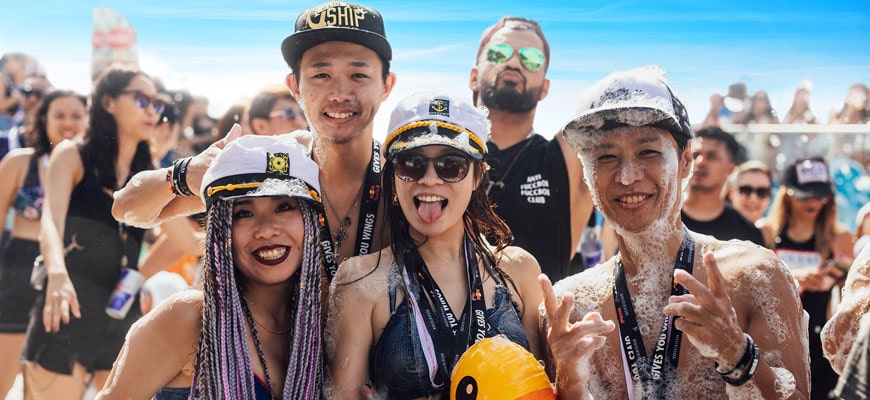 COME TOGETHER!
Over the years we have seen shipmates from all around the world, come together on our annual voyage. Expect to reconnect with some familiar faces on board as we reunite yet again for our annual shipcation. F**K Yeah! If you're new, don't sweat it! The ever-growing ITS family is ready to welcome you with open hearts. So block those dates as we prepare to go bat-ship crazy! The countdown starts now…..