Book Airlie Beach Schoolies Accommodation
Overview
Atlantic Clipper:
Atlantic Clipper, is the social trip of the century & is the biggest playground on the Whitsunday waters!!
So why is the Atlantic Clipper so desirable to visitors of the area? Size, Comfort, superior facilities, but most importantly instilling a sense of fun in every facet of what we do by creating an atmosphere and culture that's lively, engaging, and entertaining.
The Clipper boasts unrivaled facilities that are unmatched by any other boat in the Whitsundays. Herin?
at able 8m waterslide, waterchute, dive platform and 12 person hot spa are massive selling points!
Atlantic Clipper provides an array of activities, perfectly suited to the thrill-seeker in us all with snorkelling, introductory & certi?ed scuba dives, stand-up paddle boarding, banana boat rides, jet boat rides, guided bushwalks, and more.
CABIN CONFIGURATION
Choose from private doubles, triple share, and quad share cabins all with the comfort of air-conditioning throughout. The spectacular air-conditioned saloon complete with TV and DVD, a large dining area, lounge, and cocktail bar offers a gigantic area to socialise and meet new friends. With plenty of room above decks to sunbathe, relax in the shade, have fun on the water slide,ortakeasplashinthe12personspa, you will have the time of your life!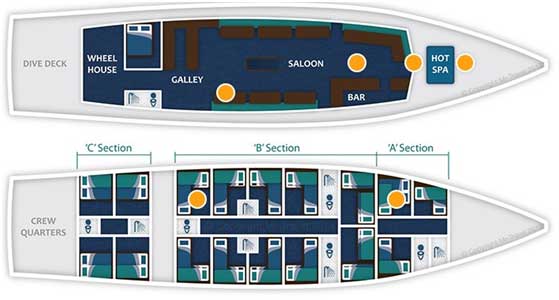 New Horizon:
New Horizon is the ideal trip for those with a sense of fun and a craving for adventure! Being one of the most popular tours on the East Coast of Australia, travellers from far & wide ?ock, just to take part in this unequalled Whitsunday adventure!
Rest assured, New Horizon takes you on an experience that will have you laughing, exploring, and making memories to last a lifetime!
Snorkel or dive amazing coral reefs, take an exhilarating ride on a jetboat,' walk the plank', zip down a mega slide, or paddleboard around secluded bays-
New Horizon has it all! This is just the start of the activities you can get your hand on while sailing the Whitsundays on New Horizon! With the best part being the ?exibility to do your trip, your way. While there are plenty of action-packed activities you are also welcome to relax on the deck and soak up the sun, or lounge on beanbags in the air-conditioned movie room.
CABIN CONFIGURATION
New Horizon is a beautiful 21-meter traditional sailing vessel that has beautiful old-world charm with modern comforts such as air conditioning. She has some beautiful features like restored hardwood decks and beautifully restored timber bunks below, paddleboards, dining, spacious sun tanning decks, and a movie room. Guests can choose from private doubles, triple share, and quad share cabins.
Solway Lass:
Solway Lass is one of the most iconic tall ships cruising the Whitsundays. Boasting expansive deck space, a licensed bar, air-conditioned cabins, and a comfortable saloon to ensure guests' comfort.
Make the most of the huge deck space and turn it into your very own dance ?oor or chill in the bownets! There is also a fun rope swing, stand-up paddleboards, and you may even wish to help pull up some of the impressive 11 sails or take a turn on the helm, a unique experience, and life-long memories.
With an onboard bar and saloon area offering comfortable seating and air-conditioning, your very own bartender will be thereto shake up a delicious cocktail & help ease you into that holiday mode!
CABIN CONFIGURATION
All cabins are well-appointed with brass lamps, cedar and oak timbers, personal reading lamps, and comfy. beds. Separate male and female bathrooms available onboard, as well as 11 private double, twin, or shared cabins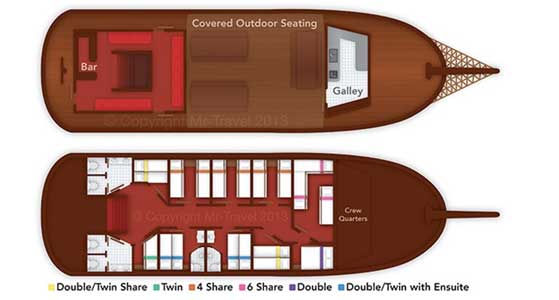 Package Inclusions
3 x Nights accommodation on private yacht charter(provided on nights 2,3 and 4).
2 x Nights accommodation in Airlie Beach (Base/ Nomads provided on night 1 and night 5)
1 x Return private coach transfer to greet guests arriving off Hamilton Island Ferry at Coral Sea Marinato Airlie Beach accommodation for arrival & departure days (provided on day 1 and day 6).
1 x Return private coach transfer from Airlie Beach accommodationto Coral Sea Marina for boarding & disembarking 3-night sailtrips (provided on Day 2 and Day 5)
1 x Schoolies RaftUp Party with live DJ
1 x Schoolies After Pool Party with live DJ including and a bonus BBQ
Free entry to Mama Africa's Night clubin Airlie Beach – over 18 only (on night 5)
1 x Free Pizza for at Mama Africa's – (on night 5)
5x Breakfasts
3x Lunches
5x Dinners inclusive of 1 alcoholic drink or softdrink
Daily Activities during 3-night sailing charter
Snorkel equipment provided
Use of Paddle boards
Use of 2 x Water slides
Use of Heated Spa
Social activities at night during 3-night sailing charter
Schoolies Dates
Additional Info
Room types displayed at the time of the booking are indicative only and subject to change based on availability.
Ready to Book?
Enquire about Pricing and Availability: Click Here