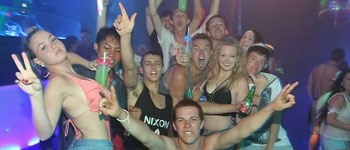 Bali is a fantastic holiday destination for anyone wanting to experience a different culture on a budget. There is so much to see and do, and most of it is very cheap when compared with Australian prices. It has shops galore, with everything from roadside market stalls to high-end, air-conditioned designer-label shopping, beachfront eateries, ancient temples, beautiful scenery — plus it never gets cold!
However, if you're looking for a relaxing, peaceful Schoolies Week, Bali Schoolies 2018 is definitely not the Schoolies destination for you! Situated in the heart of Kuta and only 200m from both the very popular Kuta Beach and Kuta Beachwalk Mall, The Bounty Hotel – the Official Schoolies Accommodation in Bali – is lively, fun and always has an amazing party atmosphere!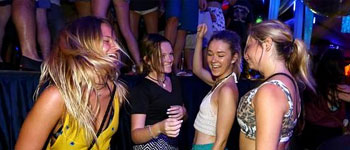 Kuta has a reputation for being party-central in Bali, and when Schoolies hits it becomes filled with school leavers looking to celebrate big time! When you book your Official Schoolies Accommodation with Sure Thing Schoolies Travel, you'll get a full-on week of fun and celebrating while staying in quality accommodation with all the facilities you'd expect— a daily Buffet Breakfast, air conditioning, two swimming pools, a restaurant serving delicious local and international food, and more. Booking Official Schoolies Accommodation through Sure Thing Travel will also ensure that you'll have no problems at check-in, there'll be Schoolies-friendly hotel staff, and fully Accredited and Qualified Sure Thing staff on site. You're guaranteed to get the genuine Schoolies experience.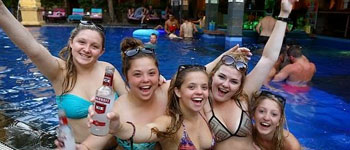 Sure Thing Schoolies Travel has an amazing Bali Schoolies 2018 package available, which includes flights, transfers, accommodation, parties, cocktails, a day cruise, and entry to the famous Sky Garden Night Club. To get more details, and to make sure you don't miss out, contact a Sure Thing Schoolies Travel consultant today. Sure Thing is proud to be accredited by the AFTA Travel Accreditation Scheme (ATAS), which is your guarantee of receiving reliable and professional travel advice from its highly qualified staff. You can book your Schoolies Week knowing you're in the safe hands of a trusted and reputable travel agent who will make the process an easy one from start to finish.
Sure Thing Schoolies Travel is a leader in Overseas Schoolies travel, and offers its expertise specifically and exclusively to Australian Schoolies. If you're ready to start planning, settle for nothing but the best and make your Bali Schoolies Week 2018 a Sure Thing! Fiji Schoolies 2018 Details and Packages are now available and places will fill fast, so don't wait! Complete the form below or email us at schoolies@surething.com.au