You're finishing school and you want to plan for an awesome schoolies week; so where do you go? Byron Bay is an excellent schoolies destination with pristine white-sand beaches, beautiful weather, and an assortment of excellent accommodation.
Your schoolies week will be so much better with a little planning in advance. Remember, thousands of schoolies are going to be descending on Byron Bay, flocking to the beach, and pouring into the bars and restaurants. Planning far in advance will help you and your mates to book the best accommodation in the perfect location.
Accommodation for Byron Bay Schoolies
You can stay at places right in town, or further away from the action. You can also choose to stay beachfront, or a number of blocked away from the beach.An example of a Schoolies resort that is right in town and right on the beach is the Byron Bay Backpackers Inn on the Beach on the Beach on 29 Shirley Street – some consider this to be the best place to stay in Byron Bay if you're heading there for Schoolies week. There are a number of types of quality rooms, sizes, and accommodation that has extra features in Byron Bay. There are plenty of choices: many schoolies go in together to share rooms, or take over a dorm with all their school mates. You save money, and get more when you all contribute as a group.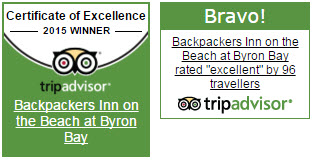 Australia is famous for its beaches, and among the best are the white sands of Byron Bay. You reached a major milestone with the completion of your exams. Your schoolies in 2018 and 2019 will be an event you'll remember for life, and there's no better place to do it than on a gorgeous Byron Bay beach, hanging out with mates, soaking in the sun, surf, and sharing great memories. Schoolies week 2018 and 2019 promise to be the best yet – this is assisted by the support of the Byron Baycommunity who want you to have a safe and memorable time.
Keep your schoolies week filled with good memories, and always look out for your mates. You've worked too hard to allow anyone to get injured or out of hand. Schoolies is a rite of passage for many. You've seen pictures and heard plenty of stories. Stay safe and be respectable to the locals, and be friendly with the thousands of other schoolies. Byron Bay is a perfect place to create enduring memories, and to mark the end of an era for you and your friends. Keep your head straight and make your schoolies week a safe and fun week.
Plenty to Do for All Types of Schoolies in Byron Bay
There are over 30 kilometers of pristine beaches to discover during the day; then hit the variety of bars and nightclubs in Byron Bay at night. There is something to do for every type of schoolie. If you're not into partying then there is so much to explore. If you are there to celebrate, then the clubs and bars will more than satisfy your need to party and there are plenty of cheap eateries for when you need that late night snack.
You won't regret spending your schoolies 2018 or schoolies 2019 in Byron Bay. You may even find yourself having an annual Byron Bay holiday after your experience during schoolies week. Byron is the perfect setting to create memories, celebrate the end of school after passing finals, and moving on to the next stage of your life.
If you'd like further information or need help to make your Schoolies 2018 bookings, you will need to contact us as soon as possible. It would be our pleasure to assist you with any aspect of organising your booking or to answer any questions or queries you may have.
Rooms at the hottest schoolies hotels always get sold out first, so take the first step before it's too late! Fill the form below to get started and see what's still available in Byron Bay…