Lorne on the famous Great Ocean Road is a super popular venue for Schoolies. Would you believe thousands of teens head to Lorne for the beach, the town and, of course, the parties every year? Lorne is a safe environment but certainly raging as a permanent fixture in this beautiful seaside town.
Go by the book
It makes so much sense for anyone wanting a seriously good time. Being a registered Schoolie helps keep you safe but equally important, it gives you the inside goss of what's happening and where.
When you choose a long-time Schoolies travel company such as Sure Thing you get an awesome set of benefits including:
The best accommodation in the best locations
The wristband for entry to special Schoolies gigs
The guaranteed package of all that is required
The support of years and years of experience working with teens at Schoolies
Lorne has been a top spot for decades. The famous pier to pub swim attracts thousands every year. The atmosphere hasn't changed but the accommodation has sure gone upmarket of late.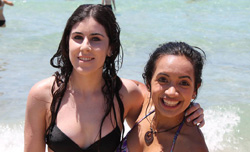 And for all these reasons Schoolies in Lorne just gets bigger and better. It's so popular that many teens now book more than twelve months in advance. They know that Schoolies week in Lorne is exactly where it's at. So if you haven't booked already, check with us now before it's too late.
The parties and events are fun with a capital F and the memories last for ages. It's such a relaxed town with the beauty of nature all around. The pubs and eateries in Lorne offer great food and everything is close and easy to access.
Lorne Schoolies might be bigger than big but there are limits. Early booking is the smart thing to do. At the very least email or call Sure Thing to get the full lowdown on what's happening on the Victorian coast come the end of your school days.
All employees at Sure Thing Schoolies are Fully Accredited and Qualified.
Schoolies at Lorne: Details and Packages now available