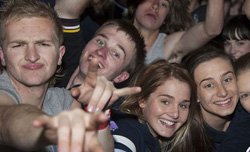 Queenstown is a scenic town in the South Island of New Zealand, and is a hugely popular tourist destination offering great attractions. It is the Southern Hemisphere's premier, four-season lake and alpine resort.
Queenstown is set on the shores of crystal clear Lake Wakatipu and is surrounded by majestic mountains and dramatic alpine ranges. The beauty and the unique energy of the region create the perfect backdrop for a holiday full of adventure, exploration and relaxation, with its huge range of activities and stunning scenery.
The home of Ultimate adventures, Queenstown offers skiing in the winter in addition to activities such as bungee jumping, sky diving, canyon swinging, jet boating, horse trekking and river rafting, which are available all year round. It has also become a renowned cycling destination, providing everything from easy scenic tracks to backcountry trails, road rides to heli-biking, and has the Southern Hemisphere's only gondola-accessed downhill mountain biking.
Sure Thing Schoolies offers the best Schoolies Resorts and Hotels in Queenstown. There's no need to worry about flights, accommodation, deadlines, fitting everyone in, planning activities – Sure Thing Schoolies Travel does it all for you. We take care of all your Schoolies needs and find the most suitable accommodation option for you and your group at the best price guaranteed. We also let you know some of the precautions you can take to keep everyone safe and healthy.
All employees at Sure Thing Schoolies are fully Accredited and Qualified.
Schoolies Details and Packages are now available.
To take the first step, fill in the form below or email us at schoolies@surething.com.au
We're only one click away!