Schoolies Airlie Beach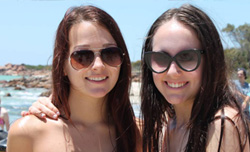 Airlie Beach in the Whitsundays is a hot favourite for Schoolies Week. Set in the tropics and the gateway to the impressive Great Barrier Reef, you'll be spoilt for things to do. North Queensland has some of the best weather in Australia and Airlie Beach is a huge drawcard for backpackers, so it's no surprise that school leavers flock here every November.
Enjoy your days relaxing by the resort pool, shopping on the main street or cooling off at the lagoon in the middle of town. For those adventure seekers, jump on a boat and head out to the Great Barrier Reef or to the famous Whitehaven Beach. At night, be ready to party with exclusive events and soak up the vibe on the main strip.
Things to do at Schoolies Airlie Beach:
Take a day trip to the Great Barrier Reef, one of the 7 natural wonders of the world.
Head out on a speedboat and step foot on the pristine and white sandy beach of Whitehaven.
Relax at the local lagoon in the main town.
Soak up the Schoolies vibe at your resort.
Schoolies Events at Airlie Beach
Schoolies can get access into the bars and clubs if you are 18+. Otherwise, there is a great Schoolies vibe at the Schoolies accommodation that can be enjoyed every evening for all Schoolies regardless of age. Staying at the Schoolies accommodation is a huge advantage for those who are under 18 as it gives you a venue to enjoy and celebrate your Schoolies week.