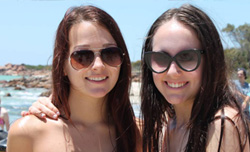 This fabulous Whitsundays location is rapidly becoming one of the most popular destinations for Schoolies. The setting is superb. North Queensland has some of the best weather in Australia and Airlie Beach is a huge draw card for tourists, especially young people. It's easy to see why Schoolies love Airlie Beach so much!
There are great places to eat in town – and the sunsets are spectacular. In November and December Schoolies use the swimming lagoon built by the locals for anyone who wants to take the plunge in the ocean.
One of the Gr8 Wonders of the World
The plusses of the region are legendary. Airlie Beach has the huge advantage of being a perfect starting point for anyone wanting to explore the Great Barrier Reef. There are all sorts of tours running every day. So you can swim, snorkel or view this awesome living creation as part of your day time activities on Schoolies.
By night you can eat, drink and dance and party till you drop. The amazing balmy weather, the wide array of places to visit and the friends you'll meet make Airlie Beach the chosen spot for so many Schoolies.
Be safe and be satisfied
Let's face it, you want to have an awesome time. You want to celebrate the end of your high school days. You want to let off steam, let your hair down and just chill out. But you want great value for your investment, safe and good quality accommodation and access to any and all the Schoolies events.
All of that is possible and then some. Hook up with Sure Thing Schoolies. They've been running Schoolies gigs for years and will do all the hard work in preparation leaving you to get on and party.
All employees at Sure Thing Schoolies are Fully Accredited and Qualified.
Airlie Beach Schoolies: Details and Packages now available