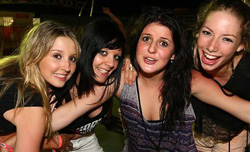 Let's be honest here, there are packages and then there are Sure ThingSchooliespackages. If you want to be one of thousands who have celebrated Schoolies Week on Queensland's sunny Sunshine Coast then you want the best in so many areas.
You want the best deal
The best accommodation
The best lowdown on all the Schoolies events
The best service from a specialised Schoolies travel agent
Sunshine Coast benefits
It's only a hundred clicks from Brisbane
Some of the best beaches in Australia
Official Schoolies events for 16 to 18 years olds
Weather is perfect to celebrate indoors and out
Sure Thing has packages for Schoolies for the Sunshine Coast. They know what works and why. They know where the best places and events are held. They do all the pre-planning for your Schoolies booking. They make sure your Schoolies Week is all about partying and having an awesome time. They take the hassle out of booking, leaving you to do your thing with your friends whenever you want.
Noosa, Coolum, Alexandra Headlands, Mooloolaba and Maroochydore are five of the awesome Sunshine Coast holiday spots. Their beaches are simply breathtaking. You can swim, surf and sunbake all day. You can stroll the beaches and townships by night. You can relax and chill out or you can put on your party gear without worrying about any curfew (no curfew, no lock outs). You can be safe and sensible and have literally the best week of your life.
Do it in style
Because Sure Thinghave been looking after Schoolies for ages on the Sunshine Coast, their knowledge is your key to happiness. They book you the ideal accommodation in the ideal location and give you the good oil on all that's happening. Their unique wristband is your passport to the right places without any hassle. Catch a few rays on your Schoolies Sunshine send off.
All employees at Sure Thing Schoolies are Fully Accredited and Qualified.
Sunshine Coast Schoolies: Details and Packages now available