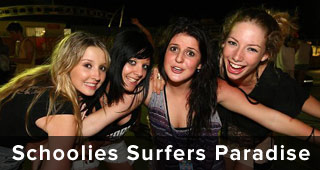 Of all the single venues within the Gold Coast area, Surfers Paradise is probably the most unique and beautiful. Originally named for the glorious and consistent waves enjoyed by the surfing community, the area quickly grew in popularity and is now an established resort hotspot. Visitors from all over the globe arrive to enjoy the warm weather, scenic coastline, amazing shopping and luxury resorts that are only a short stroll from the white sand beaches.
Fabulous beaches, great weather, affordable accommodation and plenty of beautiful surroundings also make Surfers Paradise the perfect location for school leavers to de-stress and celebrate during Schoolies Week. A tried and true Schoolies destination, Surfers Paradise remains hugely popular year after year due to its location, convenience, awesome activities and solid reputation as an awesome holiday destination.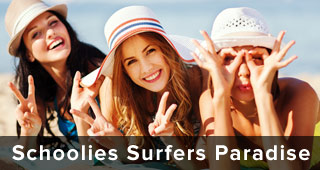 Booking into Official Schoolies Accommodation for your stay is your guarantee of safe, reasonably priced, no-hassle accommodation with the added benefit of access to all of the organised Schoolies events and parties. With the freedom to explore Surfers Paradise and all it has to offer during the day, and party every night, you simply can't go wrong.
But there's a catch—Official Schoolies Accommodation in Surfers Paradise fills fast and time is running out! Now is the time to contact the Schoolies Travel experts at Sure Thing Travel to get your flights and accommodation locked in before it's too late.
To take the first step fill in the form below, or email us at schoolies@surething.com.au
One of our Sure Thing Dedicated Schoolies Travel consultants is waiting to answer all your questions and help you with all the arrangements.
Schoolies week for 2022 at Surfers Paradise: Details and Packages are now available
All employees at Sure Thing Schoolies are fully Accredited and Qualified.